Articles | Volume 14, issue 1
https://doi.org/10.5194/esd-14-81-2023
© Author(s) 2023. This work is distributed under
the Creative Commons Attribution 4.0 License.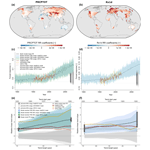 Robust global detection of forced changes in mean and extreme precipitation despite observational disagreement on the magnitude of change
Detection and attribution (D&A) of forced precipitation change are challenging due to internal variability, limited spatial, and temporal coverage of observational records and model uncertainty. These factors result in a low signal-to-noise ratio of potential regional and even global trends. Here, we use a statistical method – ridge regression – to create physically interpretable fingerprints for the detection of forced changes in mean and extreme precipitation with a high signal-to-noise ratio. The fingerprints are constructed using Coupled Model Intercomparison Project phase 6 (CMIP6) multi-model output masked to match coverage of three gridded precipitation observational datasets – GHCNDEX, HadEX3, and GPCC – and are then applied to these observational datasets to assess the degree of forced change detectable in the real-world climate in the period 1951–2020.
We show that the signature of forced change is detected in all three observational datasets for global metrics of mean and extreme precipitation. Forced changes are still detectable from changes in the spatial patterns of precipitation even if the global mean trend is removed from the data. This shows the detection of forced change in mean and extreme precipitation beyond a global mean trend is robust and increases confidence in the detection method's power as well as in climate models' ability to capture the relevant processes that contribute to large-scale patterns of change.
We also find, however, that detectability depends on the observational dataset used. Not only coverage differences but also observational uncertainty contribute to dataset disagreement, exemplified by the times of emergence of forced change from internal variability ranging from 1998 to 2004 among datasets. Furthermore, different choices for the period over which the forced trend is computed result in different levels of agreement between observations and model projections. These sensitivities may explain apparent contradictions in recent studies on whether models under- or overestimate the observed forced increase in mean and extreme precipitation. Lastly, the detection fingerprints are found to rely primarily on the signal in the extratropical Northern Hemisphere, which is at least partly due to observational coverage but potentially also due to the presence of a more robust signal in the Northern Hemisphere in general.
Received: 29 Jun 2022 – Discussion started: 13 Jul 2022 – Revised: 19 Dec 2022 – Accepted: 22 Dec 2022 – Published: 26 Jan 2023
Precipitation changes may be among the most important consequences of anthropogenic climate change. Yet, robust detection and attribution (D&A) of forced change in the water cycle are impaired by low signal-to-noise ratios. The concept of detection and attribution is to use climate model simulations in which the applied forcings are known and internal variability can be reduced by averaging multiple realisations, to estimate a so-called fingerprint that represents the effect of the applied forcings on climate variables of interest. Subsequently, the degree to which this fingerprint can be detected in observations is assessed; if the fingerprint signal is significant and in agreement with the models, the forcing signal is said to be detected and attributed to the applied forcings. The low signal-to-noise ratios of precipitation D&A result from many factors (Balan Sarojini et al., 2016). First, internal variability of precipitation and related processes is high (Deser et al., 2012; Hoerling et al., 2010; Balan Sarojini et al., 2012). Second, models show relatively large disagreement in water cycle simulations due to, for example, structural uncertainties such as parameterised convection and differing climate and hydrological sensitivities (Pendergrass, 2020). There can also be discrepancies between model representations of the water cycle and observations (Mehran et al., 2014; Wehner et al., 2020). Lastly, signal robustness suffers from limited spatial and temporal coverage of observations, and biases can be introduced by changing coverage and station density over time as well as gridding procedures (Balan Sarojini et al., 2012; Dunn et al., 2020). Here we present a detection method based on regularised linear regression – ridge regression – that is suitable to detect forced changes in global metrics of mean and extreme precipitation with a high signal-to-noise ratio, despite the challenges listed.
Models and observations roughly agree on a rate of specific humidity increase with global mean temperature of ≈ 7 % K−1, following theoretical relationships (Held and Soden, 2006; Dai, 2006). Extreme precipitation scales approximately with this rate of increased precipitable water and increases over most of the global land, although atmospheric dynamics modulate the increase in some regions (O'Gorman and Schneider, 2009; Fischer and Knutti, 2016; Pfahl et al., 2017). Changes in global mean precipitation are associated with the atmospheric energy balance, resulting in a smaller increase of ≈ 1 % K−1–3 % K−1, with an underlying spatial pattern of hydrological cycle intensification (Allen and Ingram, 2002; Allan et al., 2014; Pendergrass and Hartmann, 2014; Douville et al., 2021). Changes in mean precipitation over land are not well described by this pattern intensification, though, and are expected to be lower and more complex due to the effects of water availability and relatively higher warming rates over land compared to oceans (Douville et al., 2021; Byrne and O'Gorman, 2015; Roderick et al., 2014). Besides local climatology, changes in factors such as large-scale atmospheric circulation, water availability, and the vertical structure of the atmosphere play a role in the local precipitation response to forcing (Byrne and O'Gorman, 2015; O'Gorman and Schneider, 2009; Pfahl et al., 2017).
For mean precipitation, anthropogenically forced changes have been detected and attributed on a global land level and for regions defined by latitude bands (Fischer and Knutti, 2014; Knutson and Zeng, 2018; Noake et al., 2012; Polson et al., 2013; Marvel and Bonfils, 2013). Anthropogenic aerosols and greenhouse gases (GHGs) have opposing influences on the hydrological cycle (Wu et al., 2013; Bonfils et al., 2020; Salzmann, 2016), implying that continued increase in GHGs and decrease in aerosol emissions will lead to stronger GHG signatures in mean precipitation. Although studies agree on the presence of a signal in observations, they disagree on the strength. Models have been suggested to overestimate (Fischer and Knutti, 2014) as well as underestimate (Noake et al., 2012; Wu et al., 2013; Polson et al., 2013; Knutson and Zeng, 2018) observed trends.
For extreme precipitation, optimal fingerprinting methods and spatial aggregation approaches have led to the detection and attribution of anthropogenically forced changes over global land and for distinct Northern Hemispheric regions (e.g. Min et al., 2011; Zhang et al., 2013; Fischer and Knutti, 2014; Paik et al., 2020; Kirchmeier-Young and Zhang, 2020; Sun et al., 2022; Fischer and Knutti, 2016). However, for extreme precipitation there is also disagreement regarding the strength of the forced signal in observations. A subset of studies finds Coupled Model Intercomparison Project (CMIP) multi-model ensembles generally underestimate changes compared to observations (Min et al., 2011; Fischer and Knutti, 2014, 2016; Borodina et al., 2017), whereas others find the opposite (Zhang et al., 2013; Paik et al., 2020; Sun et al., 2022).
Hence, the degree to which model simulations accurately represent the responses of precipitation-relevant processes to forcing and thus accurately simulate past and future changes in precipitation remains up for debate. Knowledge of the severity of current climate change effects on the water cycle as well as the congruence of modelled and observed historical forced changes in the water cycle is important for adaptation policies and improvement of future projections.
Recent studies using data-science methods of varying complexity for the purpose of reducing the signal-obscuring effects of uncertainties and internal variability have detected forced signals in temperature as well as mean and extreme precipitation (Sippel et al., 2020; Barnes et al., 2019, 2020; Madakumbura et al., 2021). Here, we show that regularised linear regression can alleviate some of the difficulties in precipitation D&A by reducing the influence of internal variability and structural model error on detection results. We use regularised linear regression to construct high signal-to-noise ratio fingerprints for the detection of the forced response in mean and extreme precipitation based on observational coverage and apply these to several station-based observational datasets to assess whether significant forced changes are detected and have emerged from internal variability. The simultaneous assessment of multiple observational datasets provides an overview of how modelled and observed forced changes compare and sheds light on the aforementioned contradictory findings. We analyse forced signals in annual precipitation anomalies and also in anomalies from which the global mean trend is removed, relying on spatial pattern information alone. The latter approach highlights relative regional responses to forcing and tests whether spatial pattern changes in models are in accordance with observations.
In our detection procedure ridge regression (RR) models are trained on simulated spatial patterns of precipitation with known forcings to determine fingerprints of the modelled forced response of annual mean total precipitation (PRCPTOT) and annual extreme precipitation (Rx1d: precipitation accumulation on the day with most precipitation each year). The fingerprints are such that they predict the global forced response from the spatial locations where observational data are available. The RR fingerprints are applied to observations to isolate an estimate of the real-world forced response from internal variability. Several data processing and regression steps are needed to achieve this. We describe the general procedures here; Sect. S1 in the Supplement contains additional details, and Sippel et al. (2020) describe the method used here in detail.
Our method bears similarity to (non-)optimal fingerprinting methods for D&A which have been developed over the past decades. From Klaus Hasselmann's seminal paper on the signal-to-noise problem in detecting forced climate responses (Hasselmann, 1979), optimal fingerprinting (e.g. Hegerl et al., 1996; Allen and Stott, 2003; Ribes et al., 2013; Ribes and Terray, 2013) and detection methods based on pattern similarity (e.g. Santer et al., 1995, 2013; Marvel and Bonfils, 2013) have evolved. In optimal fingerprinting, observations are regressed on a "guess pattern" of the forced response derived from models, using an estimate of internal variability, resulting in scalars ("scaling factors") representing the strength of the guess patterns in observations. Our ridge-regression-based detection method differs from this approach in that we do not regress observational data on simulated estimates of the forced response but determine a detection model based on model data only. It is more closely related to pattern similarity methods, where an EOF (empirical orthogonal function)-based signal pattern is referred to as the fingerprint, and the projection of spatiotemporal observations onto this pattern yields a one-dimensional (temporal) estimate of the forced response in observations. Our method builds on this in a straightforward way by adding a step to optimise the signal-to-noise ratio. In our method, we project observations not onto the signal pattern directly but onto a regression coefficient pattern that "optimally" (linearly, optimised by regularisation) projects simulated spatiotemporal Rx1d or PRCPTOT patterns onto a one-dimensional detection space based on the signal pattern (see Sect. 2.2 and 2.3 for details). Regularisation optimises the regression coefficient pattern for a high signal-to-noise ratio across models and thus improves generalisability. The detection metric is then applied to map spatiotemporal observations onto the one-dimensional detection space, thus extracting the forced response signature in the real-world climate.
We believe the advantages of our method lie in (1) its relative simplicity and close links to pattern-similarity-based D&A methods, while going beyond comparisons to the signal pattern (e.g. Santer et al., 2013; Marvel and Bonfils, 2013; Bonfils et al., 2020) or spatial aggregation techniques (e.g. Fischer and Knutti, 2014; Borodina et al., 2017), (2) the interpretable and intuitive fingerprint (spatial coefficient map) that reflects regions exhibiting high signal-to-noise ratio climate change signals, (3) the fact that the estimate of the observed forced response is a time series, allowing for analysis of trends, and (4) the possibility of straightforwardly introducing additional constraints to, for instance, increase robustness of detection with respect to specific climate uncertainties, such as decadal-scale internal variability (Sippel et al., 2021). This method fits in recent developments in D&A that move towards mapping multidimensional data onto a one-dimensional detection space. Studies based on neural networks and deep learning for D&A (e.g. Barnes et al., 2019, 2020; Labe and Barnes, 2021; Madakumbura et al., 2021) employ non-linear methods but use a very similar framework with similar goals. We do not argue that ridge regression is fundamentally better than any of the mentioned methods, but we are convinced that the intuitive, physical outputs combined with a high signal-to-noise ratio can be valuable for trend detection and attribution.
4
 Conclusions and outlook
We demonstrated the detection and emergence of forced change in mean and extreme precipitation beyond internal variability using a recently introduced detection method based on regularised linear regression. We generate regression models for the detection of forced change based on climate simulations, consisting of physically interpretable fingerprints that optimise the signal-to-noise ratio. We detect forced trends in both mean and extreme precipitation that lie outside the piControl range of unforced variability in three different observational datasets. The unequivocalness of the detection of forced change is further demonstrated by the sustained detection from the spatial pattern of precipitation alone, after subtracting the global mean trend from the data. A similar result was shown earlier for mean precipitation (Barnes et al., 2019) and is extended here to extreme precipitation. This finding also reinforces confidence in the ability of CMIP6 models to represent processes that govern the (large-scale) spatial distribution of precipitation. Simultaneous emergence of the forced signal from internal variability in both PRCPTOT and Rx1d demonstrates the value of RR-based fingerprint construction for a high signal-to-noise ratio estimation of forced responses.
Despite the robustness of the results, the relative magnitude of forced trends in observations and models depends on the period over which trends are calculated as well as on the observational dataset. We show in Sect. S2.3 that the dependency of trend magnitudes on trend period and dataset remains when we use different metrics of precipitation, such as percentage change per degree of warming. These sensitivities emphasise the difficulty associated with quantitative assessment of observed changes in precipitation, as demonstrated by apparent contradictions in recent studies on whether models under- or overestimate the observed changes. Figure S14 contains an overview of D&A studies on mean and extreme precipitation, showing the lack of consensus on observed forced trend strength across studies. This overview reveals that, in line with our study, model and observational uncertainties, changing observation station densities, internal variability, and structural differences between model simulations and observational data lead to different results, even when similar time periods and precipitation metrics are considered. Against the backdrop of such uncertainty, further development of methods such as ours that optimise for high SNR and support intuitive physical interpretation of results can be of great value.
It is important to note that the influence of Northern Hemisphere (NH) precipitation is disproportionately strong in this analysis. Part of this larger NH contribution may be due to stronger or earlier emergence of a forced response, which has been found in other studies (King et al., 2015). However, the uneven distribution of measurement stations over the global land plays a large role as well. Therefore, the global detection found in this study may not be representative of smaller sub-regions, especially outside of the NH. Furthermore, preliminary results suggest that detection is sensitive to seasonal process specifics – we find that forced change is not detected in June–July–August (NH summer), on both global and NH-specific scales (see Fig. S21). This is potentially related to the convective nature of precipitation in NH summer. We provide a preliminary application of the method to regional and seasonal scales in Sect. S3. Extending the approach to D&A of precipitation changes on regional and seasonal spatiotemporal timescales is of great importance to increase practical relevance of the results for risk assessment and adaptation.
In this study we do not explicitly separate the effects of different forcings (GHG, aerosols, natural). We assume, however, that the analysis primarily pertains to GHG forcing since the RR fingerprint is based on historical-SSP245 projections through 2100, when GHG forcing dominates (Chen et al., 2021). Nonetheless, an extension of the present study explicitly separating different forcings would be insightful to further characterise the effects of different forcing agents in the real climate and potentially identify sources of disagreement between models and observations. This is important as Wu et al. (2013) shows that different models may agree on the simulated response to all forcings combined, while they differ greatly on separate responses to GHG and aerosol forcings alone. Correct simulation of the relative effects of different forcing agents is important for scenario development and climate action targets, meaning further investigation of these model discrepancies is imperative. RR-based analyses may enable the establishment of observational constraints on the precipitation response to different drivers, which can help constrain projections of near-term changes in mean and extreme precipitation.
Code and data availability
IEdV contributed to conceptualisation, method development, method implementation and data analysis, and writing and visualisation. SeS contributed to conceptualisation, method development and implementation, text improvements, and funding acquisition. AGP and RK contributed to conceptualisation, text improvements, and funding acquisition.
The contact author has declared that none of the authors has any competing interests.
Publisher's note: Copernicus Publications remains neutral with regard to jurisdictional claims in published maps and institutional affiliations.
We would like to thank Marius Egli, Erich Fischer, Nicolai Meinshausen, and Joel Zeder for helpful and stimulating discussions. We thank Urs Beyerle, Lukas Brunner and Ruth Lorenz for the preparation and maintenance of CMIP6 data. We acknowledge the World Climate Research Programme's Working Group on Coupled Modelling, which is responsible for CMIP, and we thank the climate modelling groups for producing and making available the model output. For CMIP, the U.S. Department of Energy's Program for Climate Model Diagnosis and Intercomparison provides coordinating support and led development of software infrastructure in partnership with the Global Organization for Earth System Science Portals. We acknowledge the Climdex website https://www.climdex.org (last access: April 2021) for making available observational climate indices used in this study.
This research has been supported by the Swiss National Science Foundation within the project "Combining theory with Big Data? The case of uncertainty in prediction of trends in extreme weather and impacts" (grant no. 167215) (Iris Elisabeth de Vries and Sebastian Sippel). Sebastian Sippel received additional funding from the Swiss Data Science Centre within the project "Data Science-informed attribution of changes in the Hydrological cycle" (DASH; C17-01) and within the European Union H2020 project "Artificial intelligence for detection and attribution" (XAIDA; grant no. 101003469). Angeline Greene Pendergrass was supported by the U.S. Department of Energy, Office of Science, Office of Biological & Environmental Research (BER), Regional and Global Model Analysis (RGMA) component of the Earth and Environmental System Modeling Program under Award Number DE-SC0022070 and National Science Foundation (NSF) IA 1947282 and by the National Center for Atmospheric Research (NCAR), which is a major facility sponsored by the NSF under Cooperative Agreement No. 1852977.
This paper was edited by Gabriele Messori and reviewed by two anonymous referees.
Allan, R. P., Liu, C., Zahn, M., Lavers, D. A., Koukouvagias, E., and Bodas-Salcedo, A.: Physically consistent responses of the global atmospheric hydrological cycle in models and observations, Surv. Geophys., 35, 533–552, https://doi.org/10.1007/s10712-012-9213-z, 2014. a
Allen, M. R. and Ingram, W. J.: Constraints on future changes in climate and the hydrologic cycle, Nature, 419, 228–232, https://doi.org/10.1038/nature01092, 2002. a
Allen, M. R. and Stott, P. A.: Estimating the signal amplitudes in optimal fingerprinting, Part I: Theory, Clim. Dynam., 21, 477–491, 2003. a
Avila, F. B., Dong, S., Menang, K. P., Rajczak, J., Renom, M., Donat, M. G., and Alexander, L. V.: Systematic investigation of gridding-related scaling effects on annual statistics of daily temperature and precipitation maxima: A case study for south-east Australia, Weather and Climate Extremes, 9, 6–16, https://doi.org/10.1016/j.wace.2015.06.003, 2015. a
Balan Sarojini, B., Stott, P. A., Black, E., and Polson, D.: Fingerprints of changes in annual and seasonal precipitation from CMIP5 models over land and ocean, Geophys. Res. Lett., 39, L21706, https://doi.org/10.1029/2012GL053373, 2012. a, b
Balan Sarojini, B., Stott, P. A., and Black, E.: Detection and attribution of human influence on regional precipitation, Nat. Clim. Change, 6, 669–675, https://doi.org/10.1038/nclimate2976, 2016. a
Barnes, E. A., Hurrell, J. W., Ebert-Uphoff, I., Anderson, C., and Anderson, D.: Viewing forced climate patterns through an AI Lens, Geophys. Res. Lett., 46, 13389–13398, https://doi.org/10.1029/2019GL084944, 2019. a, b, c
Barnes, E. A., Toms, B., Hurrell, J. W., Ebert-Uphoff, I., Anderson, C., and Anderson, D.: Indicator Patterns of Forced Change Learned by an Artificial Neural Network, J. Adv. Model. Earth Sy., 12, e2020MS002195, https://doi.org/10.1029/2020MS002195, 2020. a, b
Bonfils, C. J., Santer, B. D., Fyfe, J. C., Marvel, K., Phillips, T. J., and Zimmerman, S. R.: Human influence on joint changes in temperature, rainfall and continental aridity, Nat. Clim. Change, 10, 726–731, https://doi.org/10.1038/s41558-020-0821-1, 2020. a, b, c
Borodina, A., Fischer, E. M., and Knutti, R.: Models are likely to underestimate increase in heavy rainfall in the extratropical regions with high rainfall intensity, Geophys. Res. Lett., 44, 7401–7409, https://doi.org/10.1002/2017GL074530, 2017.  a, b
Boucher, O., Denvil, S., Levavasseur, G., Cozic, A., Caubel, A., Foujols, M.-A., Meurdesoif, Y., Cadule, P., Devilliers, M., Dupont, E., and Lurton, T.: IPSL IPSL-CM6A-LR model output prepared for CMIP6 ScenarioMIP, Earth System Grid Federation [data set], https://doi.org/10.22033/ESGF/CMIP6.1532, 2019a. a
Boucher, O., Denvil, S., Levavasseur, G., Cozic, A., Caubel, A., Foujols, M.-A., Meurdesoif, Y., Cadule, P., Devilliers, M., Ghattas, J., Lebas, N., Lurton, T., Mellul, L., Musat, I., Mignot, J., and Cheruy, F.: IPSL IPSL-CM6A-LR model output prepared for CMIP6 CMIP piControl, Earth System Grid Federation [data set], https://doi.org/10.22033/ESGF/CMIP6.5251, 2019b. a
Byrne, M. P. and O'Gorman, P. A.: The Response of Precipitation Minus Evapotranspiration to Climate Warming: Why the "Wet-Get-Wetter, Dry-Get-Drier" Scaling Does Not Hold over Land, J. Climate, 28, 8078–8092, https://doi.org/10.1175/JCLI-D-15-0369.1, 2015. a, b
Byun, Y.-H., Lim, Y.-J., Shim, S., Sung, H. M., Sun, M., Kim, J., Kim, B.-H., Lee, J.-H., and Moon, H.: NIMS-KMA KACE1.0-G model output prepared for CMIP6 ScenarioMIP, Earth System Grid Federation [data set], https://doi.org/10.22033/ESGF/CMIP6.2242, 2019a. a
Byun, Y.-H., Lim, Y.-J., Sung, H. M., Kim, J., Sun, M., and Kim, B.-H.: NIMS-KMA KACE1.0-G model output prepared for CMIP6 CMIP piControl, Earth System Grid Federation [data set], https://doi.org/10.22033/ESGF/CMIP6.8425, 2019b. a
Chen, D., Rojas, M., Samset, B., Cobb, K., Niang, A. D., Edwards, P., Emori, S., Faria, S., Hawkins, E., Hope, P., Huybrechts, P., Meinshausen, M., Mustafa, S., Plattner, G.-K., and Tréguier, A.-M.: Framing, Context, and Methods, in: Climate Change 2021: The Physical Science Basis. Contribution of Working Group I to the Sixth Assessment Report of the Intergovernmental Panel on Climate Change, edited by: Masson-Delmotte, V., Zhai, P., Pirani, A., Connors, S. L., Péan, C., Berger, S., Caud, N., Chen, Y., Goldfarb, L., Gomis, M. I., Huang, M., Leitzell, K., Lonnoy, E., Matthews, J. B. R., Maycock, T. K., Waterfield, T., Yelekçi, O., Yu, R., and Zhou, B., chap. 1, Cambridge University Press, Cambridge, United Kingdom and New York, NY, USA, 2021. a
Contractor, S., Donat, M. G., Alexander, L. V., Ziese, M., Meyer-Christoffer, A., Schneider, U., Rustemeier, E., Becker, A., Durre, I., and Vose, R. S.: Rainfall Estimates on a Gridded Network (REGEN) – a global land-based gridded dataset of daily precipitation from 1950 to 2016, Hydrol. Earth Syst. Sci., 24, 919–943, https://doi.org/10.5194/hess-24-919-2020, 2020. a
Cowtan, K. and Way, R. G.: Coverage bias in the HadCRUT4 temperature series and its impact on recent temperature trends, Q. J. Roy. Meteor. Soc., 140, 1935–1944, https://doi.org/10.1002/qj.2297, 2014. a
Dai, A.: Recent Climatology, Variability, and Trends in Global Surface Humidity, J. Climate, 19, 3589–3606, https://doi.org/10.1175/JCLI3816.1, 2006. a
Deser, C., Phillips, A., Bourdette, V., and Teng, H.: Uncertainty in climate change projections: the role of internal variability, Clim. Dynam., 38, 527–546, https://doi.org/10.1007/s00382-010-0977-x, 2012. a
de Vries, I. E.: Robust global detection of forced changes in mean and extreme precipitation despite observational disagreement on the magnitude of change – code and data, ETH Zurich [code, data set], https://doi.org/10.3929/ethz-b-000589377, 2023. a
Dix, M., Bi, D., Dobrohotoff, P., Fiedler, R., Harman, I., Law, R., Mackallah, C., Marsland, S., O'Farrell, S., Rashid, H., Srbinovsky, J., Sullivan, A., Trenham, C., Vohralik, P., Watterson, I., Williams, G., Woodhouse, M., Bodman, R., Dias, F. B., Domingues, C. M., Hannah, N., Heerdegen, A., Savita, A., Wales, S., Allen, C., Druken, K., Evans, B., Richards, C., Ridzwan, S. M., Roberts, D., Smillie, J., Snow, K., Ward, M., and Yang, R.: CSIRO-ARCCSS ACCESS-CM2 model output prepared for CMIP6 ScenarioMIP, Earth System Grid Federation [data set], https://doi.org/10.22033/ESGF/CMIP6.2285, 2019a. a
Dix, M., Bi, D., Dobrohotoff, P., Fiedler, R., Harman, I., Law, R., Mackallah, C., Marsland, S., O'Farrell, S., Rashid, H., Srbinovsky, J., Sullivan, A., Trenham, C., Vohralik, P., Watterson, I., Williams, G., Woodhouse, M., Bodman, R., Dias, F. B., Domingues, C. M., Hannah, N., Heerdegen, A., Savita, A., Wales, S., Allen, C., Druken, K., Evans, B., Richards, C., Ridzwan, S. M., Roberts, D., Smillie, J., Snow, K., Ward, M., and Yang, R.: CSIRO-ARCCSS ACCESS-CM2 model output prepared for CMIP6 CMIP piControl, Earth System Grid Federation [data set], https://doi.org/10.22033/ESGF/CMIP6.4311, 2019b. a
Donat, M., Alexander, L., Yang, H., Durre, I., Vose, R., and Caesar, J.: Global Land-Based Datasets for Monitoring Climatic Extremes, B. Am. Meteorol. Soc., 94, 997–1006, https://doi.org/10.1175/BAMS-D-12-00109.1, 2013 (data available at: https://www.climdex.org/access/, last access: April 2021). a, b, c, d
Douville, H., Raghavan, K., Renwick, J., Allan, R. P., Arias, P. A., Barlow, M., Cerezo-Mota, R., Cherchi, A., Gan, T. Y., Gergis, J., Jiang, D., Khan, A., Mba, W. P., Rosenfeld, D., Tierney, J., and Zolina, O.: Water Cycle Changes, in: Climate Change 2021: The Physical Science Basis. Contribution of Working Group I to the Sixth Assessment Report of the Intergovernmental Panel on Climate Change, edited by: Masson-Delmotte, V., Zhai, P., Pirani, A., Connors, S. L., Péan, C., Berger, S., Caud, N., Chen, Y., Goldfarb, L., Gomis, M. I., Huang, M., Leitzell, K., Lonnoy, E., Matthews, J. B. R., Maycock, T. K., Waterfield, T., Yelekçi, O., Yu, R., and Zhou, B., chap. 8, Cambridge University Press, Cambridge, United Kingdom and New York, NY, USA, 2021. a, b, c, d, e
Dunn, R. J. H., Alexander, L. V., Donat, M. G., Zhang, X., Bador, M., Herold, N., Lippmann, T., Allan, R., Aguilar, E., Barry, A. A., Brunet, M., Caesar, J., Chagnaud, G., Cheng, V., Cinco, T., Durre, I., de Guzman, R., Htay, T. M., Wan Ibadullah, W. M., Bin Ibrahim, M. K. I., Khoshkam, M., Kruger, A., Kubota, H., Leng, T. W., Lim, G., Li-Sha, L., Marengo, J., Mbatha, S., McGree, S., Menne, M., de los Milagros Skansi, M., Ngwenya, S., Nkrumah, F., Oonariya, C., Pabon-Caicedo, J. D., Panthou, G., Pham, C., Rahimzadeh, F., Ramos, A., Salgado, E., Salinger, J., Sané, Y., Sopaheluwakan, A., Srivastava, A., Sun, Y., Timbal, B., Trachow, N., Trewin, B., van der Schrier, G., Vazquez-Aguirre, J., Vasquez, R., Villarroel, C., Vincent, L., Vischel, T., Vose, R., and Bin Hj Yussof, M. N.: Development of an Updated Global Land In Situ-Based Data Set of Temperature and Precipitation Extremes: HadEX3, J. Geophys. Res.-Atmos., 125, e2019JD032263, https://doi.org/10.1029/2019JD032263, 2020 (data available at: https://www.climdex.org/access/, last access: April 2021). a, b, c, d, e, f, g
EC-Earth Consortium (EC-Earth): EC-Earth-Consortium EC-Earth3 model output prepared for CMIP6 ScenarioMIP, Earth System Grid Federation [data set], https://doi.org/10.22033/ESGF/CMIP6.251, 2019a. a
EC-Earth Consortium (EC-Earth): EC-Earth-Consortium EC-Earth3-Veg model output prepared for CMIP6 ScenarioMIP, Earth System Grid Federation [data set], https://doi.org/10.22033/ESGF/CMIP6.727, 2019b. a
Eyring, V., Bony, S., Meehl, G. A., Senior, C. A., Stevens, B., Stouffer, R. J., and Taylor, K. E.: Overview of the Coupled Model Intercomparison Project Phase 6 (CMIP6) experimental design and organization, Geosci. Model Dev., 9, 1937–1958, https://doi.org/10.5194/gmd-9-1937-2016, 2016. a
Fischer, E. M. and Knutti, R.: Detection of spatially aggregated changes in temperature and precipitation extremes, Geophys. Res. Lett., 41, 547–554, https://doi.org/10.1002/2013GL058499, 2014. a, b, c, d, e, f
Fischer, E. M. and Knutti, R.: Observed heavy precipitation increase confirms theory and early models, Nat. Clim. Change, 6, 986–991, https://doi.org/10.1038/nclimate3110, 2016. a, b, c
Fischer, E. M., Sedláček, J., Hawkins, E., and Knutti, R.: Models agree on forced response pattern of precipitation and temperature extremes, Geophys. Res. Lett., 41, 8554–8562, https://doi.org/10.1002/2014GL062018, 2014. a
Fläschner, D., Mauritsen, T., and Stevens, B.: Understanding the Intermodel Spread in Global-Mean Hydrological Sensitivity, J. Climate, 29, 801–817, https://doi.org/10.1175/JCLI-D-15-0351.1, 2016. a
Friedman, J. H., Hastie, T., and Tibshirani, R.: Regularization Paths for Generalized Linear Models via Coordinate Descent, J. Stat. Softw., 33, 1–22, https://doi.org/10.18637/jss.v033.i01, 2010. a, b, c, d
Giorgi, F., Coppola, E., and Raffaele, F.: A consistent picture of the hydroclimatic response to global warming from multiple indices: Models and observations, J. Geophys. Res.-Atmos., 119, 11695–11708, https://doi.org/10.1002/2014JD022238, 2014. a
Good, P., Sellar, A., Tang, Y., Rumbold, S., Ellis, R., Kelley, D., Kuhlbrodt, T., and Walton, J.: MOHC UKESM1.0-LL model output prepared for CMIP6 ScenarioMIP, Earth System Grid Federation [data set], https://doi.org/10.22033/ESGF/CMIP6.1567, 2019. a
Hajima, T., Abe, M., Arakawa, O., Suzuki, T., Komuro, Y., Ogura, T., Ogochi, K., Watanabe, M., Yamamoto, A., Tatebe, H., Noguchi, M. A., Ohgaito, R., Ito, A., Yamazaki, D., Ito, A., Takata, K., Watanabe, S., Kawamiya, M., and Tachiiri, K.: MIROC MIROC-ES2L model output prepared for CMIP6 CMIP piControl, Earth System Grid Federation [data set], https://doi.org/10.22033/ESGF/CMIP6.5710, 2019. a
Hasselmann, K.: On the signal-to-noise problem in atmospheric response studies, in: Meteorology over the tropical oceans, edited by: Shaw, D. B., 251–259, Royal Meteorological Society, https://hdl.handle.net/21.11116/0000-0003-12C1-E (last access: 23 January 2023), 1979. a
Hawkins, E. and Sutton, R.: Time of emergence of climate signals, Geophys. Res. Lett., 39, L01702, https://doi.org/10.1029/2011GL050087, 2012. a
Hawkins, E., Frame, D., Harrington, L., Joshi, M., King, A., Rojas, M., and Sutton, R.: Observed Emergence of the Climate Change Signal: From the Familiar to the Unknown, Geophys. Res. Lett., 47, e2019GL086259, https://doi.org/10.1029/2019GL086259, 2020. a, b, c
Hegerl, G. C., von Storch, H., Hasselmann, K., Santer, B. D., Cubasch, U., and Jones, P. D.: Detecting Greenhouse-Gas-Induced Climate Change with an Optimal Fingerprint Method, J. Climate, 9, 2281–2306, https://doi.org/10.1175/1520-0442(1996)009<2281:DGGICC>2.0.CO;2, 1996. a, b
Held, I. M. and Soden, B. J.: Robust Responses of the Hydrological Cycle to Global Warming, J. Climate, 19, 5686–5699, https://doi.org/10.1175/JCLI3990.1, 2006. a
Hoerling, M., Eischeid, J., and Perlwitz, J.: Regional Precipitation Trends: Distinguishing Natural Variability from Anthropogenic Forcing, J. Climate, 23, 2131–2145, https://doi.org/10.1175/2009JCLI3420.1, 2010. a
Kent, C., Chadwick, R., and Rowell, D. P.: Understanding Uncertainties in Future Projections of Seasonal Tropical Precipitation, J. Climate, 28, 4390–4413, https://doi.org/10.1175/JCLI-D-14-00613.1, 2015. a, b
King, A. D., Donat, M. G., Fischer, E. M., Hawkins, E., Alexander, L. V., Karoly, D. J., Dittus, A. J., Lewis, S. C., and Perkins, S. E.: The timing of anthropogenic emergence in simulated climate extremes, Environ. Res. Lett., 10, 094015, https://doi.org/10.1088/1748-9326/10/9/094015, 2015. a
Kirchmeier-Young, M. C. and Zhang, X.: Human influence has intensified extreme precipitation in North America, P. Natl. Acad. Sci. USA, 117, 13308–13313, https://doi.org/10.1073/pnas.1921628117, 2020. a
Knutson, T. R. and Zeng, F.: Model Assessment of Observed Precipitation Trends over Land Regions: Detectable Human Influences and Possible Low Bias in Model Trends, J. Climate, 31, 4617–4637, https://doi.org/10.1175/JCLI-D-17-0672.1, 2018. a, b
Kotz, M., Wenz, L., Lange, S., and Levermann, A.: Changes in mean and extreme precipitation scale universally with global mean temperature across and within climate models, EarthArXiv [preprint], https://doi.org/10.31223/X5C631, 2022. a, b
Labe, Z. M. and Barnes, E. A.: Detecting Climate Signals Using Explainable AI With Single-Forcing Large Ensembles, J. Adv. Model. Earth Sy., 13, e2021MS002464, https://doi.org/10.1029/2021MS002464, 2021. a
Li, C., Zwiers, F., Zhang, X., Li, G., Sun, Y., and Wehner, M.: Changes in Annual Extremes of Daily Temperature and Precipitation in CMIP6 Models, J. Climate, 34, 3441–3460, https://doi.org/10.1175/JCLI-D-19-1013.1, 2021. a
Li, L.: CAS FGOALS-g3 model output prepared for CMIP6 ScenarioMIP, Earth System Grid Federation [data set], https://doi.org/10.22033/ESGF/CMIP6.2056, 2019. a
Madakumbura, G. D., Thackeray, C. W., Norris, J., Goldenson, N., and Hall, A.: Anthropogenic influence on extreme precipitation over global land areas seen in multiple observational datasets, Nat. Commun., 12, 3944, https://doi.org/10.1038/s41467-021-24262-x, 2021. a, b
Marvel, K. and Bonfils, C.: Identifying external influences on global precipitation, P. Natl. Acad. Sci. USA, 110, 19301–19306, https://doi.org/10.1073/pnas.1314382110, 2013. a, b, c, d
Mehran, A., AghaKouchak, A., and Phillips, T. J.: Evaluation of CMIP5 continental precipitation simulations relative to satellite-based gauge-adjusted observations, J. Geophys. Res.-Atmos., 119, 1695–1707, https://doi.org/10.1002/2013JD021152, 2014. a
Min, S.-K., Zhang, X., Zwiers, F. W., and Hegerl, G. C.: Human contribution to more-intense precipitation extremes, Nature, 470, 378–381, https://doi.org/10.1038/nature09763, 2011. a, b
Noake, K., Polson, D., Hegerl, G., and Zhang, X.: Changes in seasonal land precipitation during the latter twentieth-century, Geophys. Res. Lett., 39, L03706, https://doi.org/10.1029/2011GL050405, 2012. a, b
O'Gorman, P. A. and Schneider, T.: The physical basis for increases in precipitation extremes in simulations of 21st-century climate change, P. Natl. Acad. Sci. USA, 106, 14773–14777, https://doi.org/10.1073/pnas.0907610106, 2009. a, b
Paik, S., Min, S.-K., Zhang, X., Donat, M. G., King, A. D., and Sun, Q.: Determining the Anthropogenic Greenhouse Gas Contribution to the Observed Intensification of Extreme Precipitation, Geophys. Res. Lett., 47, e2019GL086875, https://doi.org/10.1029/2019GL086875, 2020. a, b
Pendergrass, A. G.: The Global-Mean Precipitation Response to CO2-Induced Warming in CMIP6 Models, Geophys. Res. Lett., 47, e2020GL089964, https://doi.org/10.1029/2020GL089964, 2020. a
Pendergrass, A. G. and Hartmann, D. L.: The atmospheric energy constraint on global-mean precipitation change, J. Climate, 27, 757–768, https://doi.org/10.1175/JCLI-D-13-00163.1, 2014. a
Pendergrass, A. G., Knutti, R., Lehner, F., Deser, C., and Sanderson, B. M.: Precipitation variability increases in a warmer climate, Sci. Rep.-UK, 7, 1–9, https://doi.org/10.1038/s41598-017-17966-y, 2017. a
Pfahl, S. and Wernli, H.: Quantifying the Relevance of Cyclones for Precipitation Extremes, J. Climate, 25, 6770–6780, https://doi.org/10.1175/JCLI-D-11-00705.1, 2012. a
Pfahl, S., O'Gorman, P. A., and Fischer, E. M.: Understanding the regional pattern of projected future changes in extreme precipitation, Nat. Clim. Change, 7, 423–427, https://doi.org/10.1038/nclimate3287, 2017. a, b, c, d
Polson, D., Hegerl, G. C., Zhang, X., and Osborn, T. J.: Causes of Robust Seasonal Land Precipitation Changes, J. Climate, 26, 6679–6697, https://doi.org/10.1175/JCLI-D-12-00474.1, 2013. a, b
Ribes, A. and Terray, L.: Application of regularised optimal fingerprinting to attribution. Part II: application to global near-surface temperature, Clim. Dynam., 41, 2837–2853, 2013. a
Ribes, A., Planton, S., and Terray, L.: Application of regularised optimal fingerprinting to attribution. Part I: method, properties and idealised analysis, Clim. Dynam., 41, 2817–2836, 2013. a
Roderick, M. L., Sun, F., Lim, W. H., and Farquhar, G. D.: A general framework for understanding the response of the water cycle to global warming over land and ocean, Hydrol. Earth Syst. Sci., 18, 1575–1589, https://doi.org/10.5194/hess-18-1575-2014, 2014. a
Rustemeier, E., Becker, A., Finger, P., Schneider, U., and Ziese, M.: GPCC Climatology Version 2020 at 2.5∘: Monthly Land-Surface Precipitation Climatology for Every Month and the Total Year from Rain-Gauges built on GTS-based and Historical Data, DWD [data set], https://doi.org/10.5676/DWD_GPCC/CLIM_M_V2020_250, 2020. a
Salzmann, M.: Global warming without global mean precipitation increase?, Sci. Adv., 2, e1501572, https://doi.org/10.1126/sciadv.1501572, 2016. a
Santer, B. D., Taylor, K. E., Wigley, T. M., Penner, J. E., Jones, P. D., and Cubasch, U.: Towards the detection and attribution of an anthropogenic effect on climate, Clim. Dynam., 12, 77–100, https://doi.org/10.1007/BF00223722, 1995. a, b
Santer, B. D., Painter, J. F., Bonfils, C., Mears, C. A., Solomon, S., Wigley, T. M. L., Gleckler, P. J., Schmidt, G. A., Doutriaux, C., Gillett, N. P., Taylor, K. E., Thorne, P. W., and Wentz, F. J.: Human and natural influences on the changing thermal structure of the atmosphere, P. Natl. Acad. Sci. USA, 110, 17235–17240, https://doi.org/10.1073/pnas.1305332110, 2013. a, b
Schneider, U., Finger, P., Meyer-Christoffer, A., Rustemeier, E., Ziese, M., and Becker, A.: Evaluating the Hydrological Cycle over Land Using the Newly-Corrected Precipitation Climatology from the Global Precipitation Climatology Centre (GPCC), Atmosphere, 8, 52, https://doi.org/10.3390/atmos8030052, 2017. a, b, c
Seland, O., Bentsen, M., Oliviè, D. J. L., Toniazzo, T., Gjermundsen, A., Graff, L. S., Debernard, J. B., Gupta, A. K., He, Y., Kirkevåg, A., Schwinger, J., Tjiputra, J., Aas, K. S., Bethke, I., Fan, Y., Griesfeller, J., Grini, A., Guo, C., Ilicak, M., Karset, I. H. H., Landgren, O. A., Liakka, J., Moseid, K. O., Nummelin, A., Spensberger, C., Tang, H., Zhang, Z., Heinze, C., Iversen, T., and Schulz, M.: NCC NorESM2-LM model output prepared for CMIP6 ScenarioMIP, Earth System Grid Federation [data set], https://doi.org/10.22033/ESGF/CMIP6.604, 2019a. a
Seland, Ø., Bentsen, M., Oliviè, D. J. L., Toniazzo, T., Gjermundsen, A., Graff, L. S., Debernard, J. B., Gupta, A. K., He, Y., Kirkevåg, A., Schwinger, J., Tjiputra, J., Aas, K. S., Bethke, I., Fan, Y., Griesfeller, J., Grini, A., Guo, C., Ilicak, M., Karset, I. H. H., Landgren, O. A., Liakka, J., Moseid, K. O., Nummelin, A., Spensberger, C., Tang, H., Zhang, Z., Heinze, C., Iversen, T., and Schulz, M.: NCC NorESM2-LM model output prepared for CMIP6 CMIP piControl, Earth System Grid Federation [data set], https://doi.org/10.22033/ESGF/CMIP6.8217, 2019b. a
Shiogama, H., Abe, M., and Tatebe, H.: MIROC MIROC6 model output prepared for CMIP6 ScenarioMIP, Earth System Grid Federation [data set], https://doi.org/10.22033/ESGF/CMIP6.898, 2019. a
Simon, N., Friedman, J. H., Hastie, T., and Tibshirani, R.: Regularization Paths for Cox's Proportional Hazards Model via Coordinate Descent, J. Stat. Softw., 39, 1–13, https://doi.org/10.18637/jss.v039.i05, 2011. a, b, c, d
Sippel, S., Meinshausen, N., Fischer, E. M., Székely, E., and Knutti, R.: Climate change now detectable from any single day of weather at global scale, Nat. Clim. Change, 10, 35–41, https://doi.org/10.1038/s41558-019-0666-7, 2020. a, b, c
Sippel, S., Meinshausen, N., Székely, E., Fischer, E., Pendergrass, A. G., Lehner, F., and Knutti, R.: Robust detection of forced warming in the presence of potentially large climate variability, Sci. Adv., 7, eabh4429, https://doi.org/10.1126/sciadv.abh4429, 2021. a
Sun, Q., Zwiers, F., Zhang, X., and Yan, J.: Quantifying the Human Influence on the Intensity of Extreme 1- and 5-Day Precipitation Amounts at Global, Continental, and Regional Scales, J. Climate, 35, 195–210, https://doi.org/10.1175/JCLI-D-21-0028.1, 2022. a, b, c
Swart, N. C., Cole, J. N. S., Kharin, V. V., Lazare, M., Scinocca, J. F., Gillett, N. P., Anstey, J., Arora, V., Christian, J. R., Jiao, Y., Lee, W. G., Majaess, F., Saenko, O. A., Seiler, C., Seinen, C., Shao, A., Solheim, L., von Salzen, K., Yang, D., Winter, B., and Sigmond, M.: CCCma CanESM5 model output prepared for CMIP6 ScenarioMIP, Earth System Grid Federation [data set], https://doi.org/10.22033/ESGF/CMIP6.1317, 2019a. a
Swart, N. C., Cole, J. N. S., Kharin, V. V., Lazare, M., Scinocca, J. F., Gillett, N. P., Anstey, J., Arora, V., Christian, J. R., Jiao, Y., Lee, W. G., Majaess, F., Saenko, O. A., Seiler, C., Seinen, C., Shao, A., Solheim, L., von Salzen, K., Yang, D., Winter, B., and Sigmond, M.: CCCma CanESM5 model output prepared for CMIP6 CMIP piControl, Earth System Grid Federation [data set], https://doi.org/10.22033/ESGF/CMIP6.3673, 2019b. a
Tachiiri, K., Abe, M., Hajima, T., Arakawa, O., Suzuki, T., Komuro, Y., Ogochi, K., Watanabe, M., Yamamoto, A., Tatebe, H., Noguchi, M. A., Ohgaito, R., Ito, A., Yamazaki, D., Ito, A., Takata, K., Watanabe, S., and Kawamiya, M.: MIROC MIROC-ES2L model output prepared for CMIP6 ScenarioMIP, Earth System Grid Federation [data set], https://doi.org/10.22033/ESGF/CMIP6.936, 2019. a
Tang, Y., Rumbold, S., Ellis, R., Kelley, D., Mulcahy, J., Sellar, A., Walton, J., and Jones, C.: MOHC UKESM1.0-LL model output prepared for CMIP6 CMIP piControl, Earth System Grid Federation [data set], https://doi.org/10.22033/ESGF/CMIP6.6298, 2019. a
Tatebe, H. and Watanabe, M.: MIROC MIROC6 model output prepared for CMIP6 CMIP piControl, Earth System Grid Federation [data set], https://doi.org/10.22033/ESGF/CMIP6.5711, 2019. a
Tramblay, Y., Mimeau, L., Neppel, L., Vinet, F., and Sauquet, E.: Detection and attribution of flood trends in Mediterranean basins, Hydrol. Earth Syst. Sci., 23, 4419–4431, https://doi.org/10.5194/hess-23-4419-2019, 2019. a
Wehner, M., Gleckler, P., and Lee, J.: Characterization of long period return values of extreme daily temperature and precipitation in the CMIP6 models: Part 1, model evaluation, Weather and Climate Extremes, 30, 100283, https://doi.org/10.1016/j.wace.2020.100283, 2020. a
Westra, S., Alexander, L. V., and Zwiers, F. W.: Global Increasing Trends in Annual Maximum Daily Precipitation, J. Climate, 26, 3904–3918, https://doi.org/10.1175/JCLI-D-12-00502.1, 2013. a
Wieners, K.-H., Giorgetta, M., Jungclaus, J., Reick, C., Esch, M., Bittner, M., Gayler, V., Haak, H., de Vrese, P., Raddatz, T., Mauritsen, T., von Storch, J.-S., Behrens, J., Brovkin, V., Claussen, M., Crueger, T., Fast, I., Fiedler, S., Hagemann, S., Hohenegger, C., Jahns, T., Kloster, S., Kinne, S., Lasslop, G., Kornblueh, L., Marotzke, J., Matei, D., Meraner, K., Mikolajewicz, U., Modali, K., Müller, W., Nabel, J., Notz, D., Peters-von Gehlen, K., Pincus, R., Pohlmann, H., Pongratz, J., Rast, S., Schmidt, H., Schnur, R., Schulzweida, U., Six, K., Stevens, B., Voigt, A., and Roeckner, E.: MPI-M MPIESM1.2-LR model output prepared for CMIP6 ScenarioMIP, Earth System Grid Federation [data set], https://doi.org/10.22033/ESGF/CMIP6.793, 2019a. a
Wieners, K.-H., Giorgetta, M., Jungclaus, J., Reick, C., Esch, M., Bittner, M., Legutke, S., Schupfner, M., Wachsmann, F., Gayler, V., Haak, H., de Vrese, P., Raddatz, T., Mauritsen, T., von Storch, J.-S., Behrens, J., Brovkin, V., Claussen, M., Crueger, T., Fast, I., Fiedler, S., Hagemann, S., Hohenegger, C., Jahns, T., Kloster, S., Kinne, S., Lasslop, G., Kornblueh, L., Marotzke, J., Matei, D., Meraner, K., Mikolajewicz, U., Modali, K., Müller, W., Nabel, J., Notz, D., Peters-von Gehlen, K., Pincus, R., Pohlmann, H., Pongratz, J., Rast, S., Schmidt, H., Schnur, R., Schulzweida, U., Six, K., Stevens, B., Voigt, A., and Roeckner, E.: MPI-M MPI-ESM1.2-LR model output prepared for CMIP6 CMIP piControl, Earth System Grid Federation [data set], https://doi.org/10.22033/ESGF/CMIP6.6675, 2019b. a
Wu, P., Christidis, N., and Stott, P.: Anthropogenic impact on Earth's hydrological cycle, Nat. Clim. Change, 3, 807–810, https://doi.org/10.1038/nclimate1932, 2013. a, b, c
Zhang, X., Wan, H., Zwiers, F. W., Hegerl, G. C., and Min, S.-K.: Attributing intensification of precipitation extremes to human influence, Geophys. Res. Lett., 40, 5252–5257, https://doi.org/10.1002/grl.51010, 2013. a, b
Ziehn, T., Chamberlain, M., Lenton, A., Law, R., Bodman, R., Dix, M., Wang, Y., Dobrohotoff, P., Srbinovsky, J., Stevens, L., Vohralik, P., Mackallah, C., Sullivan, A., O'Farrell, S., and Druken, K.: CSIRO ACCESS-ESM1.5 model output prepared for CMIP6 ScenarioMIP, Earth System Grid Federation [data set], https://doi.org/10.22033/ESGF/CMIP6.2291, 2019a.  a
Ziehn, T., Chamberlain, M., Lenton, A., Law, R., Bodman, R., Dix, M., Wang, Y., Dobrohotoff, P., Srbinovsky, J., Stevens, L., Vohralik, P., Mackallah, C., Sullivan, A., O'Farrell, S., and Druken, K.: CSIRO ACCESS-ESM1.5 model output prepared for CMIP6 CMIP piControl, Earth System Grid Federation [data set], https://doi.org/10.22033/ESGF/CMIP6.4312, 2019b. a
Zittis, G., Bruggeman, A., and Lelieveld, J.: Revisiting future extreme precipitation trends in the Mediterranean, Weather and Climate Extremes, 34, 100380, https://doi.org/10.1016/j.wace.2021.100380, 2021. a