Research article | 02 Jun 2022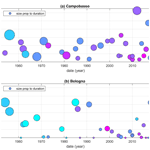 1

Laboratoire des Sciences du Climat et de l'Environnement, UMR 8212 CEA-CNRS-UVSQ, Université Paris-Saclay, IPSL, 91191 Gif-sur-Yvette CEDEX, France

2

Service de Physique de l'État Condensé, CNRS UMR 3680, CEA-Saclay, 91191 Gif-sur-Yvette, France

3

Meteorological Institute, CEN, University of Hamburg, Bundesstrasse 55, 20146 Hamburg, Germany

4

London Mathematical Laboratory, 8 Margravine Gardens, London, W6 8RH, UK

5

LMD/IPSL, Ecole Normale Superieure, PSL research University, Paris, France

These authors contributed equally to this work.
Correspondence: Davide Faranda (davide.faranda@lsce.ipsl.fr)
Received: 05 Aug 2020 – Discussion started: 17 Sep 2020 – Revised: 26 Apr 2022 – Accepted: 27 Apr 2022 – Published: 02 Jun 2022
Cold and snowy spells are compound extreme events with the potential to cause high socioeconomic impacts. Gaining insight into their dynamics in climate change scenarios could help anticipating the need for adaptation efforts. We focus on winter cold and snowy spells over Italy, reconstructing 32 major events in the past 60 years from documentary sources. Despite warmer winter temperatures, very recent cold spells have been associated with abundant and sometimes exceptional snowfall. Our goal is to analyse the dynamical weather patterns associated with these events and understand whether those patterns would be more or less recurrent in different emission scenarios using an intermediate-complexity model (the Planet Simulator, PlaSim). Our results, obtained by considering RCP2.6, RCP4.5 and RCP8.5 end-of-century equivalent CO2 concentrations, suggest that the likelihood of synoptic configurations analogous to those leading to extreme cold spells would grow substantially under increased emissions.
Cold and snowy spells are driven by the midlatitude atmospheric circulation through the amplification of planetary waves (Tibaldi and Buzzi, 1983; Barnes et al., 2014; Lehmann and Coumou, 2015), while they are sustained by thermodynamic effects occurring at local scales (e.g. presence of snow on the ground, availability of humidity) (Screen, 2017; WMO, 1966). Previous studies on current and future trends in the frequency and intensity of cold and snowy spells are not conclusive because of the disagreement in the definition of these events (Peings et al., 2013; Vavrus et al., 2006). If we consider cold spells and snowfalls separately, a strong consensus is found in the literature: when focusing on cold-spell events only, the Intergovernmental Panel on Climate Change (IPCC) fifth assessment report (Pachauri et al., 2014, Working Group 1, chap. 4) describes the decrease in the number of ice days and low-temperature days as "very likely". Indeed, there is also a strong consensus that average snowfall and snow cover are decreasing in the Northern Hemisphere (Liu et al., 2012; Brown and Mote, 2009; Faranda, 2020). These trends have been observed also for Italy, as reported in several studies. The decrease in average snowfall in northern Italy observed in the last decades has been linked to the increase in temperature due to global climate change (Asnaghi, 2014; Mercalli and Berro, 2003). Similar conclusions also hold for the Alpine region (Serquet et al., 2011; Nicolet et al., 2016, 2018), and several studies (Diodato, 1995; Mangianti and Beltrano, 1991) also confirm these trends for central and southern Italy. On a more general basis, the study by Diodato et al. (2019) shows that the variability of average snowfall over Italy during the past millennium can be connected to changes in temperature, with periods of abundant average snowfalls corresponding to generally colder periods (e.g. the little Ice Age) and warmer periods yielding limited snow accumulations. These negative trends on average snowfall are also expected in future warmer climate emission scenarios (Pachauri et al., 2014, Working Group 1, chap. 4).
In this study, we focus on the dynamics of compound extreme cold and snowy events, for which the response to mean global change might be different from that of the individual variables (temperature and snowfall). Indeed, taking this complementary compound extreme events point of view (Zscheischler et al., 2020), some authors have found complex interactions between thermodynamic and dynamical processes when cold and snowy spells occur (Easterling et al., 2000; Strong et al., 2009; Overland and Wang, 2010; Wu and Zhang, 2010; Marty and Blanchet, 2012; Coumou and Rahmstorf, 2012; Deser et al., 2017). In particular, warmer surface and sea surface temperatures can enhance convective snowfall precipitation under specific conditions and over regions with a large availability of moisture, such as the Great Lakes in the US, Japan and Mediterranean countries (Steiger et al., 2009; Murakami et al., 1994). For Japan, Kawase et al. (2016) have shown that the interaction between the Sea of Japan polar air mass convergence zone and topography may enhance extreme snowfalls in future climates via a thermodynamic feedback. More recently, Faranda (2020) has analysed the trends in snowfall in Europe and observed that, in some countries, large snowfall amounts in the recent decades can be associated with a modification in the large-scale atmospheric patterns driving these events. Concerning trends in extreme snowfall at the global level, O'Gorman (2014) used an ensemble of global climate simulations to show that, while average daily snowfall will experience a marked decline with global warming, only very small fractional changes are expected to affect daily snowfall extremes. These analyses raise a number of questions: does anthropogenic forcing affect the frequency and/or intensity of these kinds of compound events? How do the large-scale atmospheric dynamics impact cold-spell events? Will local feedbacks (i.e. warm sea surface temperatures enhancing convective snow precipitation) play a role in increasing cold-spell hazards?
In this paper, we focus specifically on Italy: recent cold and snowy spells in this country have caused casualties in the population, strongly affected ground and air transport, and caused disruptions in services. Our strategy to tackle these questions is to analyse simulations produced in a global circulation model (GCM) under different emission scenarios. We first validate the cold and snowy spells produced by a simplified GCM of intermediate complexity with historical forcing, i.e. the Planet Simulator (PlaSim) (Fraedrich et al., 2005a, b), against those detected in a reanalysis dataset. Then we analyse dynamic analogues of cold and snowy spell events under different climate change scenarios. This work is structured as follows: in Sect. 2, we present sources and datasets used for the detection of compound cold and snow events over Italy. Simulation results obtained with PlaSim GCM are presented in Sect. 3. We discuss our findings and give an outlook for future studies in Sect. 4.
2
 Cold-spell definition and detection of analogues
2.1

 Sources and dataset

Our study is based on the detection of synoptic meteorological configurations leading to cold spells over Italy in PlaSim, considering a control run based on the recent historical climate and a set of three increased emission scenarios at steady state. In order to do so, we will proceed with the following steps:
identify large-scale, high-impact winter cold spells over Italy;

describe the dynamic and thermodynamic conditions associated with such cold spells;

detect cold-spell analogues in a historical climate dataset;

detect cold-spell analogues in PlaSim runs and evaluate whether climate change can significantly modify their frequency and in which direction;

characterize the PlaSim cold-spell analogues by analogy with point 2 to assess the potential of the considered dynamic configurations in producing relevant winter phenomena in a sensibly warmer climate.
In order to identify relevant cold spells over Italy, we consider documented events that have produced at least a record low temperature and/or a record snowfall amount (or snow at locations where snowfall has never been previously reported) at one or more locations in Italy. We combine official sources and both professional and avocational websites dedicated to weather and climate, where collections of weather event reports are available, and we countercheck their validity with station data and trusted documentary sources (Bailey, 1994; Payne and Payne, 2004). Our documentary sources include local networks, newspapers and periodicals (see Appendix A); news and commercial meteorological websites (ansa.it, 2020; 3bmeteo.com, 2022a; meteociel.fr, 2020; meteogiornale.it, 2022a); and temperature and hydrological records (evalmet.it, 2020, Servizio Idrografico e Mareografico Nazionale).
The in-depth description of the effects of each cold spell at the country level is presented in Appendix A. Here, we provide a general picture of the typical event through a local analysis focused on the cities of Bologna and Campobasso. The former stands at the southern edge of the Po Valley, at the foot of the north-eastern Apenninic range; the latter is located in the Southern Apennines, at about 45 km from the closest point on the Adriatic coast and 85 km from the closest point on the Tyrrhenian coast. Due to their position, both cities are exposed to snowfall in the case of cold spells characterized by either cold air flowing directly from the east or by Mediterranean cyclogenesis. In the latter case, Arctic air reaches the Mediterranean Sea through the Rhône Valley – often after the formation of a cyclone leeward to the Alps – and hits the eastern Italian coasts as Sirocco and bora winds, as the pressure minimum moves south. In both cases, snowfall in the two cities can be enhanced by the interaction of the easterly low-level winds drawing moisture from the Adriatic with the Apenninic range, due to orographic lift. Data for Bologna are provided by the local Regional Environment Protection Agency (https://www.arpae.it/documenti.asp?parolachiave=sim_annali&cerca=si&idlivello=64, last access: 31 May 2022) and by Randi and Ghiselli (2013), while those used for Campobasso are provided by the Servizio Idrografico e Mareografico di Pescara (https://www.regione.abruzzo.it/content/annali-idrologici, last access: 31 May 2022; http://www.protezionecivile.molise.it/centro-funzionale/la-rete-meteo-idro-pluviometrica.html, last access: 31 May 2022). Figure 1 shows the amount of snowfall, the minimum temperature near the surface and the duration of each cold spell that are recorded in Campobasso and in Bologna between 1954 and 2018 from hydrological archives (https://www.arpae.it/documenti.asp, last access: 31 May 2022).
Given the heterogeneous and, in some cases, unofficial origin of the considered data, we only aim to draw a qualitative picture. Overall, our analysis indicates that extreme snowfalls have occurred in recent years, despite warming temperatures (Fig. 1a). For example, 50 to 60 cm snow depth was measured on the coast at the border between Apulia and Marche during the January 2016 event, and a similar amount was recorded in the Campobasso area. The snowfall amounts do not seem to be affected by decreasing trends, although it can be argued that the duration of the events slightly decreases and the associated minimum temperatures slightly increase. In another study performed using reanalysis and observational data, Faranda (2020) performed yearly block maximum analyses of snowfalls over Europe, showing that contrasting trends appear for extreme snowfalls over Italian regions.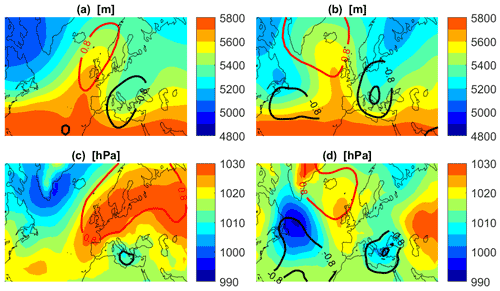 2.2

 Observed cold-spell dynamics

Besides the qualitative analysis involving the cities of Bologna and Campobasso briefly presented in Sect. 2.1, we now aim to characterize the dynamic and thermodynamic features of the considered cold spells at the synoptic scale. To this purpose, we rely on the National Centers for Environmental Prediction (NCEPv2) Reanalysis dataset. In particular, we consider geopotential height at 500 hPa (Z500) and sea-level pressure (SLP) as dynamical fingerprints and to compute the analogues (Jézéquel et al., 2018); temperature at 850 hPa (T850) to track cold air advection without surface disturbances (Grazzini, 2013); 2 m temperature (T2 m) to characterize near-surface conditions; and daily precipitation rate (PRP).

Although our analysis is focused on cold spells affecting an area containing Italian borders, the dynamic determinants of such cold spells span much larger scales. For this reason, we consider a larger area, including Europe, European Russia, and the North Atlantic, over a 2.5∘ grid between [22.5–70∘ N, 80∘ W–70∘ E]. We first perform an unsupervised cluster analysis based on the Z500 standardized anomaly fields using a k-means algorithm (Michelangeli et al., 1995), and we inspect the Z500, SLP and T850 fields averaged over each cluster.

For Z500 and SLP, we consider standardized anomalies from the December–January–February–March (DJFM) climatology, since these months include all the events described in Appendix A. Standardized anomalies are obtained by subtracting the DJFM mean and dividing by the DJFM standard deviation.

In order to choose the optimal number of clusters, we first performed a scree plot (not shown), obtained by plotting the within-groups sum of squared differences from the cluster centroids. This analysis did not give clear indications about the ideal number of clusters. Therefore, we compared clustering results at different values of k, finding that for k=3 two of the three clusters displayed very similar spatial features, and with larger k the resulting clusters can always be reduced to two main patterns: we then choose k=2. We remark that the k-means algorithm and other clustering techniques are based on assumptions such as equal size and sphericity of the clusters, which can be met only in coarse approximation in real-world high-dimensional datasets. In particular, the poor indications from the scree plot may be due to the different number of events assigned to each cluster (respectively, 22 and 10 for k=2). However, we find the results consistent enough to allow for a qualitative analysis.

In Fig. 2 we show the Z500 fields (Fig. 2a and b) and the SLP fields (Fig. 2e and f) averaged over the events in cluster 1 (Fig. 2a and c) and cluster 2 (Fig. 2b and d), and the corresponding standardized anomalies as red (positive) and black (negative) standardized anomalies. The dynamic configurations in the two clusters differ greatly, suggesting the existence of at least two typical large-scale cold-spell drivers.

Cluster 1 presents a pattern resembling a Scandinavian blocking but with positive SLP anomalies displaced to the south, with an anticyclone stretching in a SW–NE direction rather than elevated along the meridians, and low-pressure values centred over the central Mediterranean, mainly confined below 40∘ N. The axis of the anticyclone is located at about 50–60∘ N, so that cold Arctic air is free to flow on its southern edge in a ENE–WSW direction, drawn by the Mediterranean low, after assuming partially continental features while streaming over Russia and eastern Europe. In this situation, cold air easily reaches central southern Italy after increasing its humidity content over the Adriatic Sea. This causes snowy precipitation bands to form slightly offshore of the east Italian coast, which can later be amplified by the orographic effect caused by the Apenninic range, with abundant snowfall even at low altitudes (Stocchi and Davolio, 2017).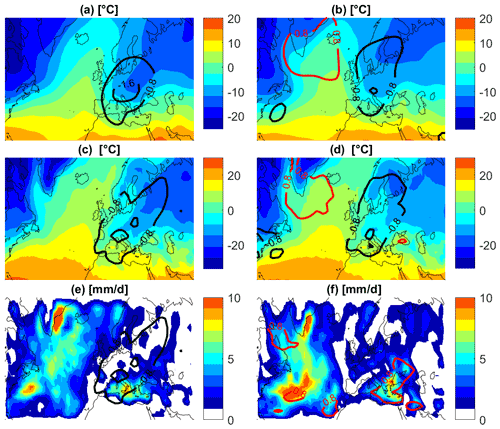 Cluster 2 is characterized by an Omega wavy structure associated with an Atlantic high-pressure ridge (Falkena et al., 2020; Faranda, 2020) reaching Iceland and with a trough embracing Italy and the Balkans. A trough associated with low Z500 values is also present over the North Atlantic, between the Azores and North America. The SLP field presents a similar structure, with a high-pressure system centred over the United Kingdom and a deep low anomaly centred over southern Italy and Greece. In such a situation, cold air is drawn from the north by the Mediterranean cyclone, flowing from Scandinavia over central western Europe and entering the Mediterranean from the Rhône Valley and the Gulf of Trieste due to the presence of the Alps.
Figure 3 shows the corresponding T850 (Fig. 3a and b), T2 m (Fig. 3c and d) and PRP (Fig. 3e and f) fields. We begin with the analyses of T850 hPa fields: despite the sensibly different dynamic setting, the penetration of cold air into the Mediterranean is quite similar in the two clusters, with strong negative anomalies embracing the whole central Mediterranean including the entire Italian Peninsula. The main differences concern the UK, Iceland and Scandinavia, due to the different direction of the high-pressure axis. In cluster 1, the tilted high-pressure drives warmer air towards the British Isles and Scandinavia, while the cold anomaly is confined to more southern latitudes. In cluster 2, the meridionally oriented axis brings warmer air towards Greenland and Iceland, while the core of the cold air is located between Scandinavia and central Europe. The T2 m fields (Fig. 3c and d) generally show above-zero temperatures over central southern Italy during these events: this is partially due to the coarse resolution of the NCEPv2 dataset that regards southern Italy and Sicily as sea grid points. Italy is also a country with a complex geography and mountain ranges (the Alps and the Apennines) extending from the north to the south. This causes a strong temperature gradient across the country. Indeed, for both clusters, the T850 temperatures shown in panels Fig. 3a and b are sufficient to produce snowfall in the Po Valley and at low altitudes in the hills and mountains of the country. Finally, the PRP fields (Fig. 3e and f) show that these events are indeed associated with consistent precipitation amounts over southern Italy and Sardinia (especially in cluster 1) and the Balkans (especially in cluster 2).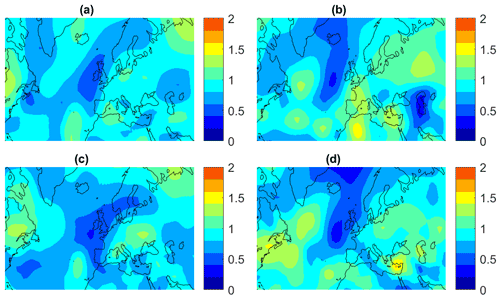 We measure the uncertainty associated with the cluster composites discussed above by computing the standard deviation of the standardized anomalies used for the clustering, shown in Figs. 4 and 5. Low uncertainty is overall associated with the position of Z500 maxima and minima driving the cold spells in both clusters. Small values of the SLP standard deviation are also associated with low-level high and low-pressure systems in cluster 1, while the position of the low pressure in the Eastern Mediterranean in cluster 2 is affected by high uncertainty. Concerning temperature, high (cluster 1) and very high (cluster 2) uncertainty is attributed to the position of the western limit of the cold pool of air at 850 hPa (see Fig. 5a and b), and high uncertainty affects the penetration of cold air into the Mediterranean area at the low levels (Fig. 5c and d).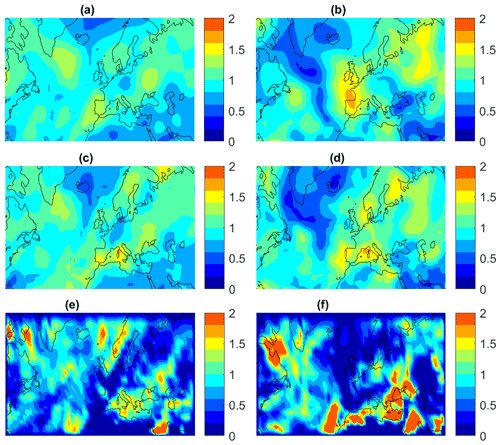 3
 Climate change in atmospheric circulations associated with cold spells in PlaSim
4
 Discussion and conclusion
We have characterized high-impact cold spells that affected Italy in the course of the past 68 years by assessing their common dynamical large-scale signature. Despite the differences in duration, snowfall and temperature recorded during each event, the corresponding Z500 fields can be grouped according to two main dynamic fingerprints. Both are characterized by the presence of a low-pressure area over the central Mediterranean, associated with an anticyclone either zonally tilted between western Europe and Russia, with pressure maxima over central Europe (cluster 1), or elevated over western Europe (cluster 2). In both cases, cold air is drawn towards Italy by the Mediterranean low-pressure area, flowing mainly from Russia (cluster 1) or Scandinavia (cluster 2).
Then, after assessing the capability of PlaSim to reproduce dynamic analogues of these events in the CTRL run, we studied the influence of climate change on the frequency of such analogues using three steady-state increased emission scenarios. The PlaSim control run showed a tendency to overestimate the frequency of both configurations. All three RCP runs are associated with more frequent configurations potentially leading to cold spells, with frequency increasing with equivalent CO2 concentration and a precipitation pattern that does not change substantially over the Mediterranean region. This increased frequency of Atlantic ridge and Scandinavian-like blocking patterns could be associated with a wealth of phenomena driven by mean anthropogenic climate change but still debated in the current scientific literature, such as the Arctic amplification or the increased land–sea temperature contrast (Cohen et al., 2020; Hamouda et al., 2021). Arguments to the contrary show an increase in flow zonality over the North Atlantic but mostly for the autumn (de Vries et al., 2013) and the summer seasons (Fabiano et al., 2021).
Since temperatures are projected to be contextually higher, cold spells and snow are naturally expected to decrease overall, especially under RCP4.5 and RCP8.5; however, we argue that the formation of cold air over the Arctic winter would not be completely suppressed, hence making cold-spell events still possible, and they remain relatively likely under the mitigated RCP2.6 scenario. This observation is particularly important, as RCP2.6 is representative of the current target to comply with the requirements of the Paris Agreement (Arias et al., 2021).
Moreover, the temperature fields shown in Figs. 8 and 9 are obtained by averaging over a large number of events, but temperatures low enough to generate snowfall will still be possible in single events. Considering the increased likelihood of the associated dynamical configuration, this is an important message, as the disruptive effects of these events may be exacerbated by lower attention and preparedness in much warmer climates.
This study comes with some caveats and limitations: although we have validated the behaviour of PlaSim against the NCEP reanalysis, results for frequency changes for cold spells crucially depend on the position and the destabilization of the jet stream. It is known that different climate models have a different response of jet stream dynamics to climate change (Arctic amplification (Cohen et al., 2014) or zonation (Francis and Vavrus, 2012)).
The use of an intermediate-complexity model like PlaSim allowed us to evaluate climate change in atmospheric dynamics associated with cold spells in a steady, much warmer climate, showing how the frequency and intensity of cold spells may decrease less than expected, due to a higher likelihood of synoptic configuration favourable for cold air to flow towards the Mediterranean.
Appendix A:
 Description of detected events
In this section, we describe each extreme cold event selected as a cold spell in this study. The mains characteristics of the events are the occurrence of snowfalls in regions where snow cover has usually been rare or absent for a long time (e.g. lowlands and coasts), large socioeconomic impacts (e.g. in 2017), extreme minimum temperatures and extreme amount of snowfalls. The date reported at the beginning of each event is the one selected as the most representative day of each cold-spell event, and it is the one used for the analogue search. The information about the duration of the events is reported in the text for each description.
Appendix B:
 Analogue variability around cluster centroids
The data used in this study are available, upon request, for free by emailing the contact author of this study.
DF conceived the idea of the study and designed the methodology with CN. MD and ST performed the simulations in consultation with FL, and FP executed the statistical analysis of the results. MD, FP and DF performed the study. PY, CN, FL and DF discussed the results and implications and commented on and edited the paper.
The contact author has declared that neither they nor their co-authors have any competing interests.
Publisher's note: Copernicus Publications remains neutral with regard to jurisdictional claims in published maps and institutional affiliations.
This article is part of the special issue "Understanding compound weather and climate events and related impacts (BG/ESD/HESS/NHESS inter-journal SI)". It is not associated with a conference.
This work was supported by ANR-TERC grant BOREAS. We thank Fabio D'Andrea and Aglaé Jézéquel (Laboratoire de Météorologie Dynamique, Paris, France) for useful discussion on the paper. Frank Lunkeit acknowledges support by the Deutsche Forschungsgemeinschaft (DFG, German Research Foundation) through the University of Hamburg's Cluster of Excellence Integrated Climate System Analysis and Prediction (CliSAP) and under Germany's Excellence Strategy – EXC 2037 "Climate, Climatic Change, and Society" (CliCCS) – Project Number: 390683824, as a contribution to the Center for Earth System Research and Sustainability (CEN) of the University of Hamburg. The authors acknowledge the support of the INSU-CNRS-LEFE-MANU grant (project DINCLIC).
This research has been supported by the ANR-TERC Boreas LEFE-MANU-INSU "Dinclic" (grant no. LEFE-MANU-INSU "Dinclic").
This paper was edited by Jakob Zscheischler and reviewed by Hylke de Vries and one anonymous referee.
Aeronautica Militare: Archivio di dati climatologici dell'Aeronautica Militare Italiana, http://www.meteoam.it/, last access: 31 May 2022. a, b, c, d, e, f, g, h
Agenzia Regionale per lo Sviluppo e l'Innovazione dell'Agricoltura del Lazio: https://www.siarl-lazio.it/, last access: 26 July 2020. a, b
Agenzia Regionale Protezione Civile della Basilicata: Annali Idrologici, http://centrofunzionalebasilicata.it/it/annali.php (last access: 31 May 2022), 2007. a
Agenzia Regionale Protezione Civile della Basilicata: Annali Idrologici, http://centrofunzionalebasilicata.it/it/annali.php (last access: 31 May 2022), 2012. a
Agenzia Regionale Protezione Civile della Basilicata: Annali Idrologici, http://centrofunzionalebasilicata.it/it/annali.php (last access: 31 May 2022), 2016. a
Aljazeera: Winter digs in across Central and Eastern Europe, https://www.aljazeera.com/news/2017/1/7/winter-digs-in-across-central-and-eastern-europe (last access: 31 May 2022), 7 January 2017. a
ansa.it: Agenzia Nazionale Stampa Associata, https://www.ansa.it/, last access: 26 July 2020. a
ansa.it: Mezzo mt neve, Sangritana sopprime treno, https://www.ansa.it/abruzzo/notizie/2016/01/18/mezzo-mt-neve-sangritana-sopprime-treno_cd4c0b78-3174-4372-9553-7d473d5d607c.html, last access: 31 May 2022. a
ansamed.info: Maltempo: Tunisia, crolla ponte sotto il peso della neve, https://www.ansamed.info/ansamed/it/notizie/stati/tunisia/2012/02/10/visualizza_new.html_77330084.html, last access: 5 May 2022. a
Arias, P., Bellouin, N., Coppola, E., Jones, R., Krinner, G., Marotzke, J., Naik, V., Palmer, M., Plattner, G.-K., Rogelj, J., Rojas, M., Sillmann, J., Storelvmo, T., Thorne, P. W., Trewin, B., Achuta Rao, K., Adhikary, B., Allan, R. P., Armour, K., Bala, G., Barimalala, R., Berger, S., Canadell, J. G., Cassou, C., Cherchi, A., Collins, W., Collins, W. D., Connors, S. L., Corti, S., Cruz, F., Dentener, F. J., Dereczynski, C., Di Luca, A., Diongue Niang, A., Doblas-Reyes, F. J., Dosio, A., Douville, H., Engelbrecht, F., Eyring, V., Fischer, E., Forster, P., Fox-Kemper, B., Fuglestvedt, J. S., Fyfe, J. C., Gillett, N. P., Goldfarb, L., Gorodetskaya, I., Gutierrez, J. M., Hamdi, R., Hawkins, E., Hewitt, H. T., Hope, P., Islam, A. S., Jones, C., Kaufman, D. S., Kopp, R. E., Kosaka, Y., Kossin, J., Krakovska, S., Lee, J.-Y., Li, J., Mauritsen, T., Maycock, T. K., Meinshausen, M., Min, S.-K., Monteiro, P. M. S., Ngo-Duc, T., Otto, F., Pinto, I., Pirani, A., Raghavan, K., Ranasinghe, R., Ruane, A. C., Ruiz, L., Sallée, J.-B., Samset, B. H., Sathyendranath, S., Seneviratne, S. I., Sörensson, A. A., Szopa, S., Takayabu, I., Tréguier, A.-M., van den Hurk, B., Vautard, R., von Schuckmann, K., Zaehle, S., Zhang, X., and Zickfeld, K.: Climate Change 2021: The Physical Science Basis, in: Contribution of Working Group I to the Sixth Assessment Report of the Intergovernmental Panel on Climate Change, Technical Summary, https://doi.org/10.1017/9781009157896.002, 2021. a
Arpae.it: Dati Climatici dell'Agenzia Regionale Prevenzione Ambiente Energia Emilia Romagna, https://www.arpae.it/it, last access: 26 July 2020. a, b, c, d
Arpa Friuli Venezia Giulia: Dati Climatici dell'Agenzia Regionale Prevenzione Ambiente Friuli Venezia Giulia, https://www.osmer.fvg.it/home.php, last access: 26 July 2020. a, b, c
Arpa Liguria: Annali Idrologici, https://www.arpal.liguria.it/tematiche/meteo/pubblicazioni-bis/annali-idrologici.html (last access: 31 May 2022), 2005. a, b
Arpa Regione Emilia Romagna: Annali Idrologici, https://www.arpae.it/it/temi-ambientali/meteo/report-meteo/annali-idrologici/annali-idrologici-1999/view (last access: 31 May 2022), 1999. a
Asnaghi, G.: Como e il Lario sotto la neve, Macchione Ed. Varese, Peirone, F., ISBN 10 8883404203, 2014. a
Autorità di Bacino del Distretto Idrografico della Sicilia: Annali Idrologici, https://www.regione.sicilia.it/sites/default/files/2021-11/annale_2004_parte_I.pdf (last access: 31 May 2022), 2004. a
Autorità di Bacino del Distretto Idrografico della Sicilia: Annali Idrologici, https://www.regione.sicilia.it/sites/default/files/2021-11/annale_2015_parte_I.pdf (last access: 31 May 2022), 2015. a
Autorità di Bacino del Distretto Idrografico della Sicilia: Annali Idrologici, https://www.regione.sicilia.it/sites/default/files/2021-11/annale_2016_parte_I.pdf (last access: 31 May 2022), 2016. a
Bailey, K. D.: Method of Social Research, The Free Press, New York, ISBN 0029012791, 9780029012796, 1994. a
Barnes, E. A., Dunn-Sigouin, E., Masato, G., and Woollings, T.: Exploring recent trends in Northern Hemisphere blocking, Geophys. Res. Lett., 41, 638–644, 2014. a
Boschi, R., Lucarini, V., and Pascale, S.: Bistability of the climate around the habitable zone: A thermodynamic investigation, Icarus, 226, 1724–1742, 2013. a
Brown, R. D. and Mote, P. W.: The response of Northern Hemisphere snow cover to a changing climate, J. Climate, 22, 2124–2145, 2009. a
Centro Funzionale Multirischi per la Meteorologia, l'Idrologia e la Sismologia Regione Marche: Annali Idrologici, https://www.regione.marche.it/Regione-Utile/Protezione-Civile/Strutture-Operative/Centro-Funzionale-Multirischi (last access: 31 May 2022), 2010. a
Centro Funzionale Multirischi Regione Campania: Annali Idrologici, http://centrofunzionale.regione.campania.it/#/pages/dashboard (last access: 31 May 2022), 2010. a
Centro Meteorologico Lombardo: Nevicata del'11–12 febbraio 2013 a Briona (NO), http://www.centrometeolombardo.com/content.asp?ContentId=6918, last access: 5 May 2022. a
Cohen, J., Screen, J. A., Furtado, J. C., Barlow, M., Whittleston, D., Coumou, D., Francis, J., Dethloff, K., Entekhabi, D., Overland, J., and Jones, J.: Recent Arctic amplification and extreme mid-latitude weather, Nat. Geosci., 7, 627–637, 2014. a
Cohen, J., Zhang, X., Francis, J., Jung, T., Kwok, R., Overland, J., Ballinger, T., Bhatt, U., Chen, H., Coumou, D., Feldstein, S., Gu, H., Handorf, D., Henderson, G., Ionita, M., Kretschmer, M., Laliberte, F., Lee, S., Linderholm, H. W., Maslowski, W., Peings, Y., Pfeiffer, Y., Rigor, I., Semmler, T., Stroeve, J., Taylor, P. C., Vavrus, S., Vihma, T., Wang, S., Wendisch, M., Wu, Y., and Yoom, J.: Divergent consensuses on Arctic amplification influence on midlatitude severe winter weather, Nat. Clim. Change, 10, 20–29, 2020. a
Corriere della Sera: Neve e vento, l'Italia gela, https://www.corriere.it/ (last access: 31 May 2022), 3 January 1993. a
Corriere della Sera: Scosse, neve, dispersi, 19 January 2017. a
Corriere della Sera: Neve nel Centro-sud: traffico in tilt, https://www.corriere.it/ (last access: 31 May 2022), 25 January 2005. a
Corriere del Mezzogiorno: Febbraio 1956: sul Lungomare si poteva addirittura sciare, https://corrieredelmezzogiorno.corriere.it/lecce/notizie/cronaca/2011/7-febbraio-2011/febbraio--56-lungomare-si-poteva-addirittura-sciare-181416278208.shtml (last access: 31 May 2022), 7 February 2011. a
Coumou, D. and Rahmstorf, S.: A decade of weather extremes, Nat. Clim. Change, 2, 491–496, 2012. a
Deser, C., Hurrell, J. W., and Phillips, A. S.: The role of the North Atlantic Oscillation in European climate projections, Clim. Dynam., 49, 3141–3157, 2017. a
de Vries, H., Woollings, T., Anstey, J., Haarsma, R. J., and Hazeleger, W.: Atmospheric blocking and its relation to jet changes in a future climate, Clim. Dynam., 41, 2643–2654, 2013. a
Diodato, N.: Montevergine: unica vedetta storica dell'Appennino fondata per mezzo di padre Francesco Denza, Boll. Geof., 3, 47–51, 1995. a
Diodato, N., Büntgen, U., and Bellocchi, G.: Mediterranean winter snowfall variability over the past millennium, Int. J. Climatol., 39, 384–394, 2019. a
Easterling, D. R., Meehl, G. A., Parmesan, C., Changnon, S. A., Karl, T. R., and Mearns, L. O.: Climate extremes: observations, modeling, and impacts, Science, 289, 2068–2074, 2000. a
Eichler, W.: Strenge Winter 1962/1963 und seine vielschichtigen biologischen Auswirkungen in Mitteleuropa, Vienna Zool. bot. Ges. Verh., https://www.zobodat.at/pdf/VZBG_110-111_0053-0084.pdf (last access: 31 May 2022), 1971. a
evalmet.it: Eventi Alluvionali e precipitazioni meteoriche eccezionali del Metapontino, http://www.evalmet.it/, last access: 26 July 2020. a
Fabiano, F., Meccia, V. L., Davini, P., Ghinassi, P., and Corti, S.: A regime view of future atmospheric circulation changes in northern mid-latitudes, Weather Clim. Dynam., 2, 163–180, 2021. a
Falkena, S. K., de Wiljes, J., Weisheimer, A., and Shepherd, T. G.: Revisiting the identification of wintertime atmospheric circulation regimes in the Euro-Atlantic sector, Q. J. Roy. Meteorol. Soc., 146, 2801–2814, 2020. a
Faranda, D.: An attempt to explain recent changes in European snowfall extremes, Weather Clim. Dynam., 1, 445–458, https://doi.org/10.5194/wcd-1-445-2020, 2020. a, b, c, d
Faranda, D., Messori, G., and Yiou, P.: Dynamical proxies of North Atlantic predictability and extremes, Scient. Rep., 7, 41278, https://doi.org/10.1038/srep41278, 2017. a
Faranda, D., Vrac, M., Yiou, P., Jézéquel, A., and Thao, S.: Changes in future synoptic circulation patterns: consequences for extreme event attribution, Geophys. Res. Lett., 47, e2020GL088002, https://doi.org/10.1029/2020GL088002, 2020. a
Fraedrich, K. and Lunkeit, F.: Diagnosing the entropy budget of a climate model, Tellus A, 60, 921–931, 2008. a
Fraedrich, K., Jansen, H., Kirk, E., Luksch, U., and Lunkeit, F.: The Planet Simulator: Towards a user friendly model, Meteorol. Z., 14, 299–304, 2005a. a, b, c
Fraedrich, K., Kirk, E., Luksch, U., and Lunkeit, F.: The portable university model of the atmosphere (PUMA): Storm track dynamics and low-frequency variability, Meteorol. Z., 14, 735–745, 2005b. a, b, c
Francis, J. A. and Vavrus, S. J.: Evidence linking Arctic amplification to extreme weather in mid-latitudes, Geophys. Res. Lett., 39, L06801, https://doi.org/10.1029/2012GL051000, 2012. a
Genio Civile di Bari: Annali Idrologici, https://protezionecivile.puglia.it/centro-funzionale-decentrato/rete-di-monitoraggio/annali-e-dati-idrologici-elaborati/annali-idrologici-parte-i-download/ (last access: 31 May 2022), 1973. a
Genio Civile di Bari: Annali Idrologici, https://protezionecivile.puglia.it/centro-funzionale-decentrato/rete-di-monitoraggio/annali-e-dati-idrologici-elaborati/annali-idrologici-parte-i-download/ (last access: 31 May 2022), 1986. a
Genio Civile di Bari: Annali Idrologici, https://protezionecivile.puglia.it/centro-funzionale-decentrato/rete-di-monitoraggio/annali-e-dati-idrologici-elaborati/annali-idrologici-parte-i-download/ (last access: 31 May 2022), 1987. a, b
Genio Civile di Catanzaro: Annali Idrologici, https://www.regione.calabria.it/website/organizzazione/dipartimento6/ (last access: 31 May 2022), 1973. a
Genio Civile di Napoli: Annali Idrologici, http://www.lavoripubblici.regione.campania.it/ (last access: 31 May 2022), 1971. a
Genio Civile di Napoli: Annali Idrologici, http://www.lavoripubblici.regione.campania.it/ (last access: 31 May 2022), 1985. a
Genio Civile di Palermo: Annali Idrologici, https://www.regione.sicilia.it/istituzioni/regione/strutture-regionali/presidenza-regione/autorita-bacino-distretto-idrografico-sicilia/annali-idrologici (last access: 31 May 2022), 1981. a
Genio Civile di Palermo: Annali Idrologici, https://www.regione.sicilia.it/istituzioni/regione/strutture-regionali/presidenza-regione/autorita-bacino-distretto-idrografico-sicilia/annali-idrologici (last access: 31 May 2022), 1986. a
Genio Civile di Pescara: Annali idrologici, https://www.regione.abruzzo.it/system/files/documenti/annale-idrologico/annali-idrologici-1961-ii.pdf (last access: 31 May 2022), 1961. a
Genio Civile di Pisa: Annali Idrologici, http://www.sir.toscana.it/annali-idrologici (last access: 31 May 2022), 1968. a, b
Genio Civile di Pisa: Annali Idrologici, http://www.sir.toscana.it/annali-idrologici (last access: 31 May 2022), 1971. a
Genio Civile di Pisa: Annali Idrologici, http://www.sir.toscana.it/annali-idrologici (last access: 31 May 2022), 1973. a
Grazzini, F.: Cold spell prediction beyond a week: extreme snowfall events in February 2012 in Italy, ECMWF Newslett., 136, 31–35, 2013. a
Gudmundsson, L., Bremnes, J. B., Haugen, J. E., and Engen-Skaugen, T.: Technical Note: Downscaling RCM precipitation to the station scale using statistical transformations – a comparison of methods, Hydrol. Earth Syst. Sci., 16, 3383–3390, https://doi.org/10.5194/hess-16-3383-2012, 2012. a
Hamouda, M. E., Pasquero, C., and Tziperman, E.: Decoupling of the Arctic Oscillation and North Atlantic Oscillation in a warmer climate, Nat. Clim. Change, 11, 137–142, 2021. a
Il Foglio: Neve a Roma, https://www.ilfoglio.it/ (last access: 31 May2022), 26 February 2017. a
Il Mattino: Il meteorologo: A Napoli neve così solo nel '56, https://www.ilmattino.it/napoli/cronaca/il_meteorologo_a_napoli_neve_cosi_solo_nel_56-3574768.html (last access: 31 May 2022), 27 February 2018. a
Il Messaggero: Temperature polari in Ciociaria, https://www.ilmessaggero.it/ (last access: 31 May 2022), 17 December 2010. a
Il Quotidiano: Nevicate, ghiaccio e gelo Treni e aerei nel caos Milano quasi paralizzata. La Russa manda l'esercito, https://www.quotidiano.net/cronaca/2009/12/21/273249-cancellano_treni.shtml (last access: 31 May 2022), 19 December 2009. a
James, F.: The Weather and circulation of January 1963, Mon. Weather Rev., 91, 209–218, https://doi.org/10.1175/1520-0493(1963)091<0209:TWACOJ>2.3.CO;2, 1963. a
Jézéquel, A., Yiou, P., and Radanovics, S.: Role of circulation in European heatwaves using flow analogues, Clim. Dynam., 50, 1145–1159, https://doi.org/10.1007/s00382-017-3667-0, 2018. a
Jordan-Bychkov, T. G. and Murphy, A. B.: The European culture area: A systematic geography, Rowman & Littlefield Publishers, ISBN 10 1442223456, ISBN 13 978-1442223455, 2008. a
Kawase, H., Murata, A., Mizuta, R., Sasaki, H., Nosaka, M., Ishii, M., and Takayabu, I.: Enhancement of heavy daily snowfall in central Japan due to global warming as projected by large ensemble of regional climate simulations, Climatic Change, 139, 265–278, 2016. a
La Gazzetta del Serchio: La prima neve all'Abetone, https://www.lagazzettadelserchio.it/ (last access: 31 May 2022), 22 February 2018. a
La Gazzetta di Parma: Freddo e neve anche a quote basse: Big snow, https://www.gazzettadiparma.it/ (last access: 31 May 2022), 14 February 2018. a
La Nazione: Aria gelida dal Nord Europa, https://www.lanazione.it/ (last access: 31 May 2022), 11 November 1968. a
La Repubblica: Emergenza neve in Puglia, molti centri ancora isolati, https://www.repubblica.it/ (last access: 31 May 2022), 12 March 1987. a
La Repubblica: Prigionieri del grande gelo, https://www.repubblica.it/ (last access: 31 May 2022), 5 February 1991. a
La Repubblica: Neve e gelo, il grande freddo di Natale; Roma sotto zero, neve in tutt'Italia, https://www.repubblica.it/ (last access: 31 May 2022), 27 and 28 December 1996. a
La Repubblica: In trappola senza cibo né gasolio, https://www.repubblica.it/ (last access: 31 May 2022), 24 February 1999. a
La Repubblica: La neve congela il Nord. Genova, la città si blocca, https://www.repubblica.it/ (last access: 31 May 2022), 17 January 2001. a
La Repubblica: Il gelo assedia il Centro-Sud, https://www.repubblica.it/ (last access: 31 May 2022), 13 December 2007. a
La Repubblica: Quella nevicata di ventotto anni fa, https://www.repubblica.it/ (last access: 31 May 2022) (15 February 2009), 2009a. a
La Repubblica: Neve e gelo artico da Nord a Sud sarà il weekend più freddo dell' anno, https://www.repubblica.it/ (last access: 31 May 2022) (19 December 2009), 2009b. a
La Repubblica: Nevicata a Roma, Castelli imbiancati, Freddo e maltempo in tutta Italia, https://www.repubblica.it/ (last access: 31 May 2022), 12 February 2010. a
La Repubblica: Il gelo arriva in Sicilia: neve a Palermo, https://www.repubblica.it/ (last access: 31 May 2022), 12 February 2012. a
La Repubblica: L'Italia al gelo fino a Capodanno, https://www.repubblica.it/ (last access: 31 May 2022), 2014. a
La Repubblica: Neve e gelo in Campania giù le temperature in città, https://www.repubblica.it/ (last access: 31 May 2022), 17 January 2016. a
La Repubblica: Arrivano i giorni del gelo neve a bassa quota così i piani d'emergenza, https://www.repubblica.it/ (last access: 31 May 2022), 5 January 2017. a
La Repubblica Bologna: Neve, disagi e impreparazione, https://bologna.repubblica.it/ (last access: 31 May 2022), 10 February 2015. a
La Repubblica Milano: Il giorno del grande freddo, https://milano.repubblica.it/ (last access: 31 May 2022), 11 February 2013. a
La Stampa: Roma: traffico paralizzato anche i telefoni interrotti, https://www.lastampa.it/ (last access: 31 May 2022), 6–7 March 1971. a
La Stampa: Mai così tanto freddo da 34 anni, nelle 10 città più popolate, https://www.lastampa.it/ (last access: 31 May 2022), 13 January 1985. a
La Stampa: Neve a Roma, non accadeva dal 2005, https://www.lastampa.it/ (last access: 31 May 2022), 12 February 2010. a
Lehmann, J. and Coumou, D.: The influence of mid-latitude storm tracks on hot, cold, dry and wet extremes, Scient. Rep., 5, 17491, https://doi.org/10.1038/srep17491, 2015. a
Le Parisien: C'est la Sibérie!, https://www.leparisien.fr (last access: 31 May 2022), 3 January 1997. a
Liu, J., Curry, J. A., Wang, H., Song, M., and Horton, R. M.: Impact of declining Arctic sea ice on winter snowfall, P. Natl. Acad. Sci. USA, 109, 4074–4079, 2012. a
livesicilia.it: Maltempo, neve e disagi. Allarme anche in Sicilia, https://livesicilia.it/maltempo-neve-e-disagi-allarme-anche-in-sicilia/, last access: 5 May 2022. a
Lucarini, V., Fraedrich, K., and Lunkeit, F.: Thermodynamic analysis of snowball earth hysteresis experiment: efficiency, entropy production and irreversibility, Q. J. Roy. Meteorol. Soc., 136, 2–11, 2010a. a
Lucarini, V., Fraedrich, K., and Lunkeit, F.: Thermodynamics of climate change: generalized sensitivities, Atmos. Chem. Phys., 10, 9729–9737, https://doi.org/10.5194/acp-10-9729-2010, 2010b. a
Lucarini, V., Faranda, D., and Wouters, J.: Universal behaviour of extreme value statistics for selected observables of dynamical systems, J. Stat. Phys., 147, 63–73, 2012. a
Lucarini, V., Blender, R., Herbert, C., Ragone, F., Pascale, S., and Wouters, J.: Mathematical and physical ideas for climate science, Rev. Geophys., 52, 809–859, 2014. a
Mangianti, F. and Beltrano, M.: La neve a Roma dal 1741 al 1990, UCEA, 55 pp., http://cma.entecra.it/homePage.htm (last access: 31 May 2022), 1991. a
Maraun, D.: Bias correcting climate change simulations – a critical review, Curr. Clim. Change Rep., 2, 211–220, 2016. a
Marty, C. and Blanchet, J.: Long-term changes in annual maximum snow depth and snowfall in Switzerland based on extreme value statistics, Climatic Change, 111, 705–721, 2012. a
Mercalli, L. and Berro, D. C.: Atlante climatico della Valle d'Aosta, in: vol. 2, SMS, ISBN 8890009934, 9788890009938, 2003. a
meteociel.fr: https://www.meteociel.fr/, last access: 26 July 2020. a
meteogiornale.it: https://www.meteogiornale.it (last access: 5 May 2022), 2022a. a
meteogiornale.it: Spagna: l'ondata di freddo della terza decade di gennaio 2005, https://news.meteogiornale.it/meteo-amarcord/spagna-londata-di-freddo-della-terza-decade-di-gennaio-2005/ (last access: 5 May 2022), 2022b. a
meteogiornale.it: Ondata di gelo d'inizio marzo 2005, fra super neve e temperature glaciali, https://news.meteogiornale.it/meteo-amarcord/ondata-di-gelo-dinizio-marzo-2005-fra-super-neve-e (last access: 5 May 2022), 2022c. a
meteogiornale.it: L'ondata di freddo del Dicembre 2009 in Italia, https://news.meteogiornale.it/meteo-amarcord/londata-di-freddo-del-dicembre-2009-in-italia/ (last access: 5 May 2022), 2022d. a
meteogiornale.it: 17 Dicembre 1961: una data storica per la meteorologia mondiale!, https://news.meteogiornale.it/meteo-amarcord/17-dicembre-1961-una-data-storica-per-la-meteorologia (last access: 5 May 2022), 2022e. a
meteogiornale.it: Il grande gelo dell'inverno 1963, il più freddo del XX secolo. 22 gennaio: non si placa il gelo artico, ghiaccio e neve tengono in scacco l'Italia, https://news.meteogiornale.it/notiza/il-grande-gelo-dellinverno-1963-il-pi-freddo-del-xx-secolo-22 (last access: 5 May 2022), 2022f. a
meteogiornale.it: Marzo 1987, quando la Puglia era seppellita da eccezionali nevicate, https://news.meteogiornale.it/meteo-amarcord/marzo-1987-quando-la-puglia-era-seppellita-da-eccezionali (last access: 5 May 2022), 2022g. a
meteolive.it: La neve a Palermo, https://www.meteolive.it/news/A-tutta-neve/36/la-neve-a-palermo/3890/ (last access: 5 Mai 2022), 2022a. a, b
meteolive.it: La nevicata del 17 dicembre 2007, Sardegna irriconoscibile, https://www.meteolive.it/news/In-primo-piano/2/la-nevicata-del-17-dicembre-2007-sardegna-irriconoscibile/22761/ (last access: 5 May 2022), 2022b. a
meteolive.it: Gli inverni degli anni 90: storia di tutte le ONDATE di FREDDO (91-93-96), https://www.meteolive.it/news/Climatologia/14/gli-inverni-degli-anni-90-storia-di-tutte-le-ondate-di-freddo (last access: 5 May 2022), 2022c. a, b
meteonetwork.it: Radiosondaggi by Meteonetwork, https://www.meteonetwork.it/radiosondaggi/storico.php, last access: 5 May 2022. a
meteopalermo.it: 19 Gennaio 2016, eccezionali nevicate in Calabria fino a quote bassissime, https://www.meteopalermo.com/new/19-gennaio-2016-eccezionali-nevicate-in-calabria-fino-a-quote, last access: 5 May 2022. a
meteoservice.net: L'impressionante ondata di freddo e neve del 5–6 febbraio 1991, https://www.meteoservice.net/limpressionante-ondata-di-freddo-e-neve-del-5-6-febbraio-1991/, last access: 5 May 2022. a
meteoweb.eu: Spettacolare nevicata in atto a Cagliari nella notte di San Silvestro, https://www.meteoweb.eu/2014/12/cagliari-neve/371992/ (last access: 31 May 2022), 2014. a
meteoweb.eu: Meteo, il Burian di fine gennaio 1999: furono tre giorni da brivido, https://www.meteoweb.eu/2017/01/meteo-burian-fine-gennaio-1999-furono-tre-giorni-brivido/823277/ (last access: 5 May2022), 2022a. a
meteoweb.eu: Meteo Amarcord: il 13 dicembre 2001 il "blizzard di Santa Lucia" imbiancò la Pianura Padana, https://www.meteoweb.eu/2021/12/il-13-dicembre-2001-il-blizzard-di-santa-lucia-in-pianura (last access: 5 May 2022), 2022b. a
Michelangeli, P.-A., Vautard, R., and Legras, B.: Weather regimes: Recurrence and quasi stationarity, J. Atmos. Sci., 52, 1237–1256, 1995. a
milanotoday.it: Neve a Milano 11 febbraio 2013, https://www.milanotoday.it/foto/cronaca/neve-milano-11-febbraio-2013-foto-twitter/, last access: 5 May 2022. a
Murakami, M., Clark, T. L., and Hall, W. D.: Numerical simulations of convective snow clouds over the sea of Japan, J. Meteorol. Soc. Japn. Ser. II, 72, 43–62, 1994. a
Nguyen, H., Mehrotra, R., and Sharma, A.: Correcting for systematic biases in GCM simulations in the frequency domain, J. Hydrol., 538, 117–126, 2016. a
Nicolet, G., Eckert, N., Morin, S., and Blanchet, J.: Decreasing spatial dependence in extreme snowfall in the French Alps since 1958 under climate change, J. Geophys. Res.-Atmos., 121, 8297–8310, 2016. a
Nicolet, G., Eckert, N., Morin, S., and Blanchet, J.: Assessing climate change impact on the spatial dependence of extreme snow depth maxima in the French Alps, Water Resour. Res., 54, 7820–7840, 2018. a
nimbus.it: Fine febbraio – inizio marzo 2018: gelo intenso e tardivo, neve a Roma, Napoli e Bari, http://www.nimbus.it/eventi/2018/180302GeloItalia.htm, last access: 4 May 2022. a, b
O'Gorman, P. A.: Contrasting responses of mean and extreme snowfall to climate change, Nature, 512, 416–418, 2014. a
Osservatorio Astronomico G.S.Vaiana: Dati meteorologici dell'Osservatorio Astronomico di Palermo "G.S.Vaiana", http://meteo.astropa.unipa.it/public/ (last access: 31 May 2022), 1999. a
Overland, J. E. and Wang, M.: Large-scale atmospheric circulation changes are associated with the recent loss of Arctic sea ice, Tellus A, 62, 1–9, 2010. a
Pachauri, R. K., Allen, M. R., Barros, V. R., Broome, J., Cramer, W., Christ, R., Church, J. A., Clarke, L., Dahe, Q., Dasgupta, P., Dubash, N. K., Edenhofer, O., Elgizouli, I., Field, C. B., Forster, P., Friedlingstein, P., Fuglestvedt, J., Gomez-Echeverri, L., Hallegatte, S., Hegerl, G., Howden, M., Jiang, K., Jimenez Cisneroz, B., Kattsov, V., Lee, H., Mach, K. J., Marotzke, J., Mastrandrea, M. D., Meyer, L., Minx, J., Mulugetta, Y., O'Brien, K., Oppenheimer, M., Pereira, J. J., Pichs-Madruga, R., Plattner, G.-K., Pörtner, H.-O., Power, S. B., Preston, B., Ravindranath, N. H., Reisinger, A., Riahi, K., Rusticucci, M., Scholes, R., Seyboth, K., Sokona, Y., Stavins, R., Stocker, T. F., Tschakert, P., van Vuuren, D., and van Ypserle, J.-P.: Climate change 2014: synthesis report. Contribution of Working Groups I, II and III to the fifth assessment report of the Intergovernmental Panel on Climate Change, World Meteorological Organization, https://epic.awi.de/id/eprint/37530/1/IPCC_AR5_SYR_Final.pdf (last access: 31 May 2022), 2014. a, b
Pacucci, A.: Dalla nevicata del 56 a quella del 2017: tutte le volte che Bari si è tinta di bianco, https://www.barinedita.it/storie-e-curiosita/n2758-dalla-nevicata-del-56-a-quella-di-quest%E2%80%99anno--tutte-le-volte-che-bari-si-e-tinta-di-bianco, last access: 5 May 2022. a
palermotoday.it: Imbiancata la cima di Monte Pellegrino Nella notte si è toccata quota zero, https://www.palermotoday.it/cronaca/neve-palermo-14-febbraio-2012.html, last access: 5 May 2022. a
Payne, G. and Payne, J.: Key concepts in social research, ISBN 9780761965428, 2004. a
Peings, Y., Cattiaux, J., and Douville, H.: Evaluation and response of winter cold spells over Western Europe in CMIP5 models, Clim. Dynam., 41, 3025–3037, 2013. a
Pons, F. M. E., Messori, G., Alvarez-Castro, M. C., and Faranda, D.: Sampling hyperspheres via extreme value theory: implications for measuring attractor dimensions, J. Stat. Phys., 179, 1698–1717, 2020. a
Protezione Civile del Lazio: Annali Idrologici, https://protezionecivile.regione.lazio.it/gestione-emergenze/centro-funzionale/servizio-idrografico (last access: 31 May 2022), 2004. a
Protezione Civile del Lazio: Annali Idrologici, https://protezionecivile.regione.lazio.it/gestione-emergenze/centro-funzionale/servizio-idrografico (last access: 31 May 2022), 2005. a
Ragone, F., Wouters, J., and Bouchet, F.: Computation of extreme heat waves in climate models using a large deviation algorithm, P. Natl. Acad. Sci. USA, 115, 24–29, 2018. a
Randi, P. and Ghiselli, R.: I Grandi Inverni dal 1880 in Romagna e Province di Bologna e Ferrara, An. Walberti, ISBN 10 8890649933, ISBN 13 978-8890649936, 2013. a, b, c, d
Regione Abruzzo, Servizio Presidi Tecnici di Supporto al Settore Agricolo: Report meteorologico del mese di gennaio 2017 nella regione Abruzzo, https://www.regione.abruzzo.it/system/files/agricoltura/agrometereologia/REPORT_ANDAMENTO_METEO_MESE_DI_GENNAIO_2017_0.pdf (last access: 31 May 2022), 2017. a
Regione Sardegna: Annali Idrologici, https://www.regione.sardegna.it/j/v/25?s=205270&v=2&c=5650&t=1 (last access: 31 May 2022), 2007. a
Regione Sardegna: Annali Idrologici, https://www.regione.sardegna.it/j/v/25?s=205270&v=2&c=5650&t=1 (last access: 31 May 2022), 2010. a
Resto del Carlino: Crolli a Modena, Parma e Genova causati dall'eccezionale nevicata, https://www.ilrestodelcarlino.it/ (last access: 31 May 2022), 5 January 1954. a
Resto del Carlino: In Europa si muore di freddo, anche tutta Italia in ghiaccio, 3 January 1979, https://www.ilrestodelcarlino.it/ (last access: 31 May 2022), 1979b. a
Resto del Carlino: Dalle Marche al Gargano una lastra di ghiaccio, 18 January 1979, https://www.ilrestodelcarlino.it/ (last access: 31 May 2022), 1979b. a
Roscher, M., Stordal, F., and Svensen, H.: The effect of global warming and global cooling on the distribution of the latest Permian climate zones, Palaeogeogr. Palaeocl., 309, 186–200, 2011. a
Screen, J. A.: The missing Northern European winter cooling response to Arctic sea ice loss, Nat. Commun., 8, 1–9, 2017. a
Serquet, G., Marty, C., Dulex, J.-P., and Rebetez, M.: Seasonal trends and temperature dependence of the snowfall/precipitation-day ratio in Switzerland, Geophys. Res. Lett., 38, L07703, https://doi.org/10.1029/2011GL046976, 2011. a
Servizio Idrografico del Ministero dei Lavori Pubblici: Annali Idrologici, https://www.regione.sicilia.it/sites/default/files/2021-11/annale_1956_parte1.pdf (last access: 31 May 2022), 1956. a
Servizio Idrografico del Ministero dei Lavori Pubblici: Annali Idrologici, https://www.regione.sicilia.it/sites/default/files/2021-11/annale_1962_parte1.pdf (last access: 31 May 2022), 1962. a
Servizio Idrologico Regionale Regione Toscana: Dati climatici, http://www.sir.toscana.it/, last access: 26 July 2020. a, b, c, d, e
severe weather.eu: Review of arctic outbreak with extreme cold, severe Bora winds and lots of snow across Balkan peninsula and S-CNTRL Italy, Jan 5–8, 2017, https://www.severe-weather.eu/recent-events/review-of-arctic-outbreak-with-lots-of-snow-across-balkan, last access: 5 May 2022. a
Shrestha, M., Acharya, S. C., and Shrestha, P  K.: Bias correction of climate models for hydrological modelling – are simple methods still useful?, Meteorol. Appl., 24, 531–539, 2017. a, b
sienanews.it: La precoce ondata di gelo del 1973, https://www.sienanews.it/in-evidenza/la-precoce-ondata-di-gelo-del-1973/, last access: 5 May 2022. a
Steiger, S. M., Hamilton, R., Keeler, J., and Orville, R. E.: Lake-effect thunderstorms in the lower Great Lakes, J. Appl. Meteorol. Clim., 48, 889–902, 2009. a
Stocchi, P. and Davolio, S.: Intense air-sea exchanges and heavy orographic precipitation over Italy: The role of Adriatic sea surface temperature uncertainty, Atmos. Res., 196, 62–82, 2017. a
Strong, C., Magnusdottir, G., and Stern, H.: Observed feedback between winter sea ice and the North Atlantic Oscillation, J. Climate, 22, 6021–6032, 2009. a
Teutschbein, C. and Seibert, J.: Bias correction of regional climate model simulations for hydrological climate-change impact studies: Review and evaluation of different methods, J. Hydrol., 456, 12–29, 2012. a
Teutschbein, C. and Seibert, J.: Is bias correction of regional climate model (RCM) simulations possible for non-stationary conditions?, Hydrol. Earth Syst. Sci., 17, 5061–5077, https://doi.org/10.5194/hess-17-5061-2013, 2013. a
thamesweb.co.uk: Historical Note – Other Thames Freezes, http://www.thamesweb.co.uk/windsor/windsorhistory/freeze63.html, last access: 5 May 2022. a
3bmeteo.com: Giornale di 3B meteo, https://www.3bmeteo.com/ (last access: 5 May 2022), 2022a. a
3bmeteo.com: Meteo Storia: 18–22 Dicembre 2009 – Nord e Toscana sotto gelo e neve, https://www.3bmeteo.com/giornale-meteo/18-22-dicembre-2009--nord-e-toscana-sotto-la-neve--80947 (last access: 5 May 2022), 2022b. a
3bmeteo.com: Dicembre 2010: ondata di freddo e neve al Centro-Nord!, https://www.3bmeteo.com/giornale-meteo/dicembre-2010--ondata-di-freddo-e-neve-al-centro-nord--81144 (last access: 5 May 2022), 2022c. a
3bmeteo.com: Amarcord marzo 1987. Ondata di gelo tardivo in Italia, abbondanti nevicate in Puglia, https://www.3bmeteo.com/giornale-meteo/amarcord-marzo-1987–ondata-di-gelo-tardivo-in-italia, (last access: 5 May 2022), 2022d. a
Tibaldi, S. and Buzzi, A.: Effects of orography on Mediterranean lee cyclogenesis and its relationship to European blocking, Tellus A, 35, 269–286, 1983. a
today.it: Maltempo, gelo e neve: è il turno del Sud, https://www.today.it/cronaca/maltempo-neve-9-febbraio-2015.html, last access: 5 May 2022. a
Ufficio Idrografico del Magistrato delle Acque di Venezia: Annali Idrologici, https://www.arpa.veneto.it/temi-ambientali/idrologia/dati/annali-idrologici (last access: 31 May 2022), 1973. a
Ufficio Idrografico del Po: Annali Idrologici, https://www.isprambiente.gov.it/it/progetti/cartella-progetti-in-corso/acque-interne-e-marino-costiere-1/progetti-conclusi/progetto-annali/gli-annali-idrologici (last access: 31 May 2022), 1963. a, b
Ufficio Idrografico del Po: Annali Idrologici, https://www.isprambiente.gov.it/it/progetti/cartella-progetti-in-corso/acque-interne-e-marino-costiere-1/progetti-conclusi/progetto-annali/gli-annali-idrologici (last access: 31 May 2022), 1973. a
Ufficio Idrografico di Roma: Annali Idrologici, https://www.isprambiente.gov.it/it/progetti/cartella-progetti-in-corso/acque-interne-e-marino-costiere-1/progetti-conclusi/progetto-annali/gli-annali-idrologici (last access: 31 May 2022), 1968.  a
Ufficio Idrografico di Roma: Annali Idrologici, https://www.isprambiente.gov.it/it/progetti/cartella-progetti-in-corso/acque-interne-e-marino-costiere-1/progetti-conclusi/progetto-annali/gli-annali-idrologici (last access: 31 May 2022), 1971. a
Ufficio Idrografico e Mareografico di Bari: Annali Idrologici, https://protezionecivile.puglia.it/centro-funzionale-decentrato/rete-di-monitoraggio/annali-e-dati-idrologici-elaborati/annali-idrologici-parte-i-download/ (last access: 31 May 2022), 2004. a
Ufficio Idrografico e Mareografico di Bari: Annali Idrologici, https://protezionecivile.puglia.it/centro-funzionale-decentrato/rete-di-monitoraggio/annali-e-dati-idrologici-elaborati/annali-idrologici-parte-i-download/ (last access: 31 May 2022), 2007. a
Ufficio Idrografico e Mareografico di Parma: Annali Idrologici, https://www.isprambiente.gov.it/it/progetti/cartella-progetti-in-corso/acque-interne-e-marino-costiere-1/progetti-conclusi/progetto-annali/gli-annali-idrologici (last access: 31 May 2022), 1991. a
Ufficio Idrografico e Mareografico di Pescara: Annali Idrologici, https://www.regione.abruzzo.it/content/annali-idrologici (last access: 31 May 2022), 2005. a
Ufficio Idrografico e Mareografico di Pisa: Annali Idrologici, http://www.sir.toscana.it/annali-idrologici (last access: 31 May 2022), 1996. a
Ufficio Idrografico e Mareografico di Roma: Annali Idrologici, https://protezionecivile.regione.lazio.it/gestione-emergenze/centro-funzionale/servizio-idrografico (last access: 31 May 2022), 1999. a, b
Ufficio Idrografico e Mareografico di Venezia: Annali Idrologici, https://www.arpa.veneto.it/temi-ambientali/idrologia/dati/annali-idrologici (last access: 31 May 2022), 1991. a, b
valdarnopost.it: Trent'anni fa la nevicata e la gelata del 1985. Ricordi del tempo, https://valdarnopost.it/edizioni-locali/trent-anni-fa-la-nevicata-e-la-gelata-del-1985-ricordi-del-tempo/, last access: 5 May 2022. a
Van Vuuren, D. P., Edmonds, J., Kainuma, M., Riahi, K., Thomson, A., Hibbard, K., Hurtt, G. C., Kram, T., Krey, V., Lamarque, J.-F., Masui, T., Meinshausen, M., Nakicenovic, N., Smith, S. J., and Rose, S. K.: The representative concentration pathways: an overview, Climatic Change, 109, 5–31, 2011b. a, b
Vavrus, S., Walsh, J., Chapman, W., and Portis, D.: The behavior of extreme cold air outbreaks under greenhouse warming, Int. J. Climatol., 26, 1133–1147, 2006. a
Veneto, A.: Dati Climatici dell'Agenzia Regionale Prevenzione Ambiente Veneto, http://www.arpaveneto.it/, last access: 26 July 2020. a
Veneto, A.: Meteo Primavera 2005, https://www.arpa.veneto.it/temi-ambientali/climatologia/dati/meteo-primavera-2005, last access: 5 May 2022. a
wetterzentrale.de: Klimadaten, https://www.wetterzentrale.de/en/reanalysis.php?model=era, last access: 5 May 2022. a, b
WMO: International Meteorological Vocabulary: Vocabulaire Météorologique International, Vocabulario Meteorológico Internacional, Secretariat of the World Meteorological Organization, ISBN 978-92-63-02182-3, https://library.wmo.int/doc_num.php?explnum_id=4712 (last access: 31 May 2022), 1966.  a
WMO – World Meteorological Organization: Assessment of the Observed Extreme Conditions during Late Boreal Winter 2011/2012, World Meteorological Organization, Weather–Climate–Water, WCDMP, https://library.wmo.int/index.php?lvl=notice_display&id=14504#.YpcrnSaxW90 (last access: 1 June 2022), 2013. a
Wu, Q. and Zhang, X.: Observed forcing-feedback processes between Northern Hemisphere atmospheric circulation and Arctic sea ice coverage, J. Geophys. Res.-Atmos., 115, 14119, https://doi.org/10.1029/2009JD013574, 2010.  a
Yiou, P., Salameh, T., Drobinski, P., Menut, L., Vautard, R., and Vrac, M.: Ensemble reconstruction of the atmospheric column from surface pressure using analogues, Clim. Dynam., 41, 1333–1344, 2013. a, b
Zscheischler, J., Martius, O., Westra, S., Bevacqua, E., Raymond, C., Horton, R. M., van den Hurk, B., AghaKouchak, A., Jézéquel, A., Mahecha, M. D., Maraun, D., Ramos, A. M., Ridder, N. N., Thiery, W., and Vignotto, E.: A typology of compound weather and climate events, Nat. Rev. Earth Environ., 1, 333–347, 2020. a