Articles | Volume 9, issue 3
https://doi.org/10.5194/esd-9-939-2018
© Author(s) 2018. This work is distributed under
the Creative Commons Attribution 4.0 License.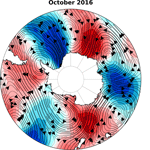 Moisture transport and Antarctic sea ice: austral spring 2016 event
Abstract. In austral spring 2016 the Antarctic region experienced anomalous sea ice retreat in all sectors, with sea ice extent in October and November 2016 being the lowest in the Southern Hemisphere over the observational period (1979–present). The extreme sea ice retreat was accompanied by widespread warming along the coastal areas as well as in the interior of the Antarctic continent. This exceptional event occurred along with a strong negative phase of the Southern Annular Mode (SAM) and the moistest and warmest spring on record, over large areas covering the Indian Ocean, the Ross Sea and the Weddell Sea. In October 2016, the positive anomalies of the totally integrated water vapor (IWV) and 2 m air temperature (T2m) over the Indian Ocean, western Pacific, Bellingshausen Sea and southern part of Ross Sea were unprecedented in the last 39 years. In October and November 2016, when the largest magnitude of negative daily sea ice concentration anomalies was observed, repeated episodes of poleward advection of warm and moist air took place. These results suggest the importance of moist and warm air intrusions into the Antarctic region as one of the main contributors to this exceptional sea ice retreat event.
Received: 17 Nov 2017 – Discussion started: 18 Dec 2017 – Revised: 11 May 2018 – Accepted: 15 Jun 2018 – Published: 04 Jul 2018